Enermax Maxflow CS-718B ATX Case - Page 1 of 5

As any computer enthusiast would know, computer cases have changed a lot over the years. It used to be that finding anything other than a plain beige box took some effort, and many enthusiasts resorted to modifying their own cases to achieve the look they wanted. Now manufacturers offer just about anything and everything in computer cases, including elaborate windows, lighting, and fancy paint jobs. Today we are going to be looking at an interesting new case from Enermax called the Maxflow CS-718B. The good people at Maxpoint sent this item over, and in case you are unfamiliar with them, they are a subsidiary of, and the U.S. distributor for Enermax.

Enermax was founded in Taiwan in 1990 and are well known for their top notch power supplies, an ever growing line of computer cases, CPU coolers and fans, and other case accessories and peripherals. So let's take a look and see just what you get with the Maxflow CS-718B and just how well Enermax's innovative "Wind Tunnel" design performs.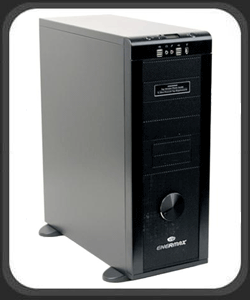 While this case does not have many of the "eye candy" type features, it does offer a very clean and attractive look. It also has a very new and innovative interior design that sports the inverted motherboard design used with the BTX form factor that will hopefully offer improved cooling performance for our existing ATX systems.

Packaging:

The box arrived looking like it had been shipped across the country twice, and that was to be expected, because it had! Even though the box had been roughed up a little bit, the contents faired well. The case was wrapped in a plastic bag and then protected by large Styrofoam blocks.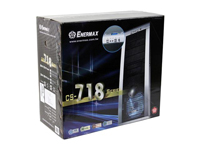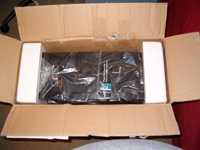 Once you get the case out of the box, and the side panel off, you will find another small box inside the case which has all the drive rails and assorted hardware you will need. There is also a small manual for the case and an AC power cord.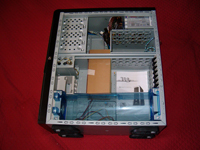 Notice we have the right side of the case open, and yes this is the side you open to access the case. Have we peaked your interest yet? Let's move on to see just what is going on with this case.

Features (from the Maxpoint website):

• Enermax Power Supply (EG465P-VE FMA), Inside Support PCI-Express (6Pins) Video Card
• Three heat dissipation zones with wind tunnel
• Meshed front panel with stylish aluminum frame
• LCD display with alarm, fan RPM
• Tool-free drive bay rails for easy assembly
• Aluminum dial to control up to 4 fans
• Dual 120mm blue LED Fan
• Front I/O interface on the top for easy access
• Security key lock

Specifications (from the Maxpoint website):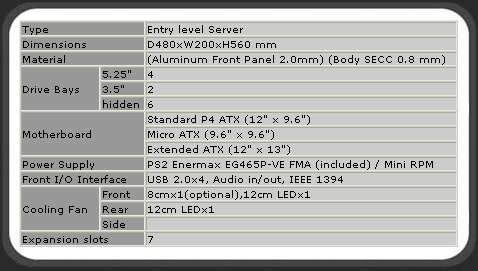 Please read on to the next page for more... Next

Page 1 | Page 2 | Page 3 | Page 4 | Page 5 | Home | Forum | Review Index | Page Views: