I am a big fan of smart home gadgets and home automation, especially when it makes my life easier and/or helps protect my home and family. But, I also enjoy installing things that make life more fun, and that is the type of smart home stuff my family can get on board with, too. This review is going to take a look at something that can be used to make your life easier, but is definitely geared towards being fun.


We are going to look at a pair of
Novostella
A19 13W RGBCW smart light bulbs, that currently sell at Amazon.com for
$25.99 (US) each
. Those that have shopped around for smart bulbs before may be thinking that is pricey for a smart bulb, but one thing that immediately distinguishes these from other smart bulbs is that these are not your typical 60W equivalent bulbs, but 120W equivalents, that are rated to put out an impressive 1300 Lumens, versus a more common output of perhaps 800 Lumens.
Novostella may not be a household name, but they have been around for about 4 years, and they are focused on LED lighting and have included smart bulbs in their line up since late 2018. Before taking a look at the bulbs provided for review, let's take a look at some published data on them, taken from the
official product page
on the Novostella website.
Features:
» The brightest bulb ever - 1300LM RGBCW 2700K-6500K Smart Bulb.
» Multi-colored light bulb - 16 million+ dimmable colors and 8 lighting scenes for choice.
» Smart light bulb support Voice / App / Group Control - Work with Amazon Alexa and Google Assistant.
» Easy remote control via Smart Life App under 2.4GHz network (not support 5GHz).
» Support group control them with a simple tap on App or a voice command.
» Timer & Dimming - Support set schedules to automatically turn on and off the light bulb as routines.
» Adjust the brightness from 0-100% to fit for different lighting occasions. Memory function is available.
» Easy Set-up, No Hub Required
The highlights from above are that they connect via 2.4GHz WiFi, and in addition to being able to produce white light from 2700K-6500K, they are also RGB, capable of producing more than 16 million colors. Given how much brighter they are stated to be, I am eager to see how well they perform.
Packaging and Accessories:
The bulbs are sold in fairly typical retail packaging, that consists of a paperboard box that is just slightly bigger than the bulb itself. The various faces of the box provide plenty of information on the product, including smart home system support (Alexa and Google home), app support (Smart Life on iPhone or Android), and a variety of specifications and certifications. What I do not see is any US certification, such as UL or ETL.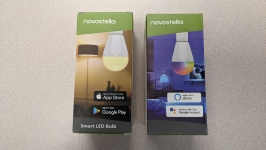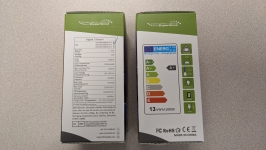 Inside the box you get the bulb, a company brochure, and a user's guide.