I now have several
ZOOZ
brand devices installed as part of my smart home setup, and overall I am very pleased with their performance. I have a few switches, a valve, a motion sensor, an alarm, and my first item - an outlet installed 2017, still going strong and used on a daily basis. This review is going to cover another motion sensor of theirs, but what makes this one special is that it is advertised for outdoor use. The promotional image below shows the ZOOZ ZSE29 Z-Wave Plus S2 outdoor motion sensor that we will be taking a closer look at.


I have wanted to have an outdoor motion sensor tied to my SmartThings hub, so that as people approach the front door a variety of things could happen. I would like the lights to come on if it is dark enough to warrant that, and I would like a push notification to know of instances when people approach the door but don't ring the bell (like UPS / FedEx). We'll see how the ZSE29 fits my needs as we move on, but first lets check out some published data on the device, as taken from
the listing at The Smartest House
.
Features and Specifications:
» The first Z-Wave motion sensor made for outdoors
» Great for flood light automation and monitoring
» NEW IN VER. 2.0: Reports LUX to the hub*
» NEW IN VER. 2.0: Adjustable motion sensitivity, ability to disable motion detection, and more advanced settings added*
» CHECK HUB COMPATIBILITY BEFORE BUYING (DOESN'T WORK WITH WINK OR ALARM PANELS)
» Battery or USB powered (cable and adapter sold separately)
» New Authenticated S2 security
» 500 Z-Wave chip for more range and better battery life
» 1-year warranty
While the information above clearly states that it does not work with Wink, it does work with a variety of popular platforms, including Hubitat, Vera, and SmartThings.
Packaging and Accessories:
ZOOZ items seem to all come in an understated black box, like the one shown below. The front of the box confirms that it contains an outdoor motion sensor, while a sketch of the ZSE29 with descriptions of some of its key features are shown on the back.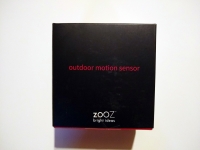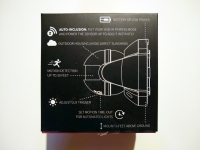 The below left image shows everything you receive, including a small bundle of accessories, a user's manual, and the motion sensor itself. The accessories include 3x AA batteries, as well as a novel adapter that will physically take up the space of three AA batteries while providing a Micro-USB port for hardwiring the sensor.