Evercool Water Cooler WC-202 - Page 1 of 7

Water coolers aren't just for the elite computer enthusiasts anymore. There are several all-in-one kits available that make it easy for a novice to enter the world of water-cooling. Evercool has one of these all-in-one kits; the Water Cooler WC-202, that includes a CPU cooling block, video card cooling block, an external radiator, and an internal drive bay unit that includes the pump, reservoir, cooling fan, and radiator.


Specifications (taken from the Evercool website):

• 1 Year Warranty
• Eliminate the need for CPU and VGA's fan, which directly removes the noise they make
• Super silent model
• Finest water cooler on the market, it's 30% more effective than the existing water cooler in the market
• Suitable for all types of CPU and VGA chips
• Easy to install, special design to prevent water leakage
• Pump has been coated by TI alloy which extends the life time of the pump
• You only need 1 set for water cooler since it has easy expandable ability, additional accessories can easily be added

The Basics:

The Evercool Water Cooler arrived in a sturdy cardboard box, which is more than adequate protection for shipping. The box is designed for retail use, so it gives you plenty of information without having to investigate elsewhere. On the back of the box there is a simple diagram to show you what is additional accessories are included.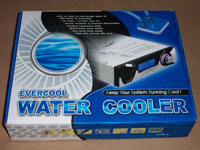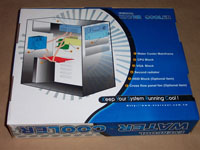 Opening the box, you find that all the components are neatly tucked away in a plastic tray with a spot for each of the major components. There is a plastic cover for the tray, but I did not include that in the pictures. The tray is designed to keep the components secure, so they do not shift and get damaged during shipment.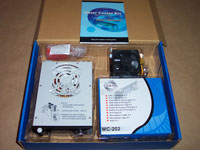 Removing the main pump assembly from the tray allows me to get a good look at it. The front panel easily explains what each item does. On the far left you have a fill hole and a water level gauge. In the middle is the LCD screen, with the navigation buttons below it. On the far right is a dial that is used to control fan speed, and increase/decrease settings.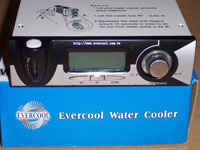 Please read on to the next page for more... Next

Page 1 | Page 2 | Page 3 | Page 4 | Page 5 | Page 6 | Page 7 | Home | Forum | Review Index

Page Views: