SinTek 500 SLI 500W Power Supply - Page 4 of 5

Testing:

For the sake of comparison I used an Enermax Noisetaker 600W PSU, the dual PCI-e version of the one reviewed here. Both the SinTek 500 SLI and Enermax were tested using the follow system:

Light Load (Idle):


• DFI LanParty nF4 SLI-DR Mother Board
• AMD Athlon 3000+ @ 300 x 8 (2400MHz)
• 2 X 6600GT graphics cards
• 2 x 512 TCCD G. Skill LE Ram
• 1 X 36GB WD Raptor
• 2 X 200GB Seagate's in RAID 1
• NEC 3510A DVD burner
• Asus DVD Rom
• 2 x 120mm fans
• 2 x 80mm LED fans
• 2 x 80mm standard fans.

Loaded:

Using the same system above while running 3dmark03, ripping a DVD, and transferring 10GB of data from D drive to C drive. I also turned on 2 x 12" CCFL's and used a 120Watt load simulator made by Seasonic, shown in this review.

All Voltage readings were taken with a Fluke 87III True RMS Multimeter.

The first thing I decided to test was the range of the adjustable voltage rails. The 12V and 3.3V rails are both adjustable, but the 5V rail is not. Tetsing this revealed an oddity in this power supply; when the adjustable fan is turned all the way down, the 12V rail is adjustable from 11.90V up to 12.09V, but when the fan is at full speed the rail is adjustable only from 12.13V up to 12.31 volts. The graph below shows the minimum and maximum adjustable voltage for each rail.



This next graph shows the voltages at an idle condition. For all tests the adjustable fan was at maximum, and this is done to show the difference between only an idle and a loaded system change, instead of an internal fan speed change which we already know has an effect on the voltage output.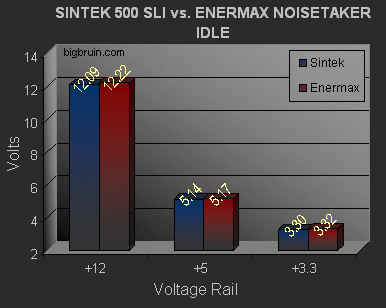 The last graph shows both of the power supplies at a loaded condition.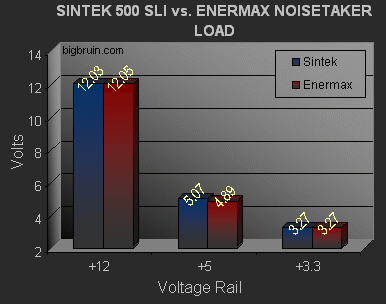 Please read on to the next page for more... Next

Page 1 | Page 2 | Page 3 | Page 4 | Page 5 | Home | Forum | Content Index