SinTek 500 SLI 500W Power Supply - Page 1 of 5

"SinTek was established to meet the demands of the next generation computers. Its founders saw the forth coming of a new era of computing in which the power supply would play a greater role in the overall performance of the computer system. As technology evolves month by month, it demands a greater amount of power and efficiency, SinTek will meet this demand and maximize its products limits with research and development" (quote taken from the SinTek website).

Well SinTek, the time has come. Power supplies to computer enthusiast are just as important as the motherboard, CPU, RAM and video cards. With that said, SinTek has come up with a new item called the 500 SLI; in this review we will see how well it fits this bill.


First Impression:

The SinTek 500 SLI arrived in a brown box, which to me seemed to be large enough to hold two power supplies. Upon opening the package I found one power supply loosely shipped in an oversized package. As you can see from the lower left image, the 500 SLI box was placed in a larger package with no padding. There was some damage done to the inside box as you can see in the below right image. Hopefully this is only how their review items are shipped and not how items are sent from stores to customers.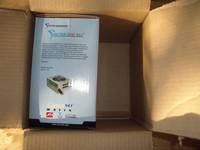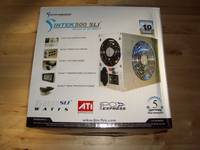 The back of the package revealed some of the features and product specifications, along with the wattage information (below left). Opening this box shows a well wrapped power supply and no damage from shipping to the internal parts.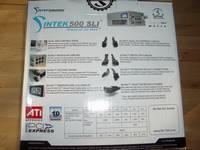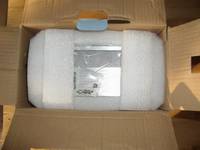 A closer look at the power supply shows a few things that make it stand out from the crowd. The first thing I noticed was the large 120mm intake fan. Not only is it a 120mm fan, but it's also equipped with bright blue LEDs. The image below (left) shows the fan lit up in its brilliant blue color. The next thing I noticed was a digital temperature display on the side of the case (below right). This displays the internal temperature of the power supply and helps determine a good speed for the adjustable fan... Also notice the large numbers displayed making it easy to read.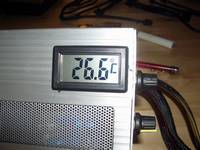 Please read on to the next page for more... Next

Page 1 | Page 2 | Page 3 | Page 4 | Page 5 | Home | Forum | Content Index

Page Views: 7850