Zalman Reserator 1 Plus Water Cooling System - Page 5 of 6

Testing & Performance:

All testing was done on the following hardware:


• DFI LAN Party SLI-DR
• AMD Athlon 3000+ @ 2400MHz (300 x 8)
• 1GB G. Skill Le (2 x 512MB)
• 2 x 6600GT (SLI) Rosewill video cards
• 1 x 36GB WD Raptor HDD
• 2 x 200GB Seagate HDD in RAID 1

For a comparison of temperatures, a Thermaltake XP-120 was used along with the stock video card coolers. The idle temperatures were taken 1 hour after initial startup of the system with no additional CPU usage other than startup. Loaded temperatures were taken after 30minutes of running the torture test in Prime95 and 3 runs of 3Dmark03. Motherboard temperatures were taken using Motherboard Monitor. Video card temperatures were taken using the nVidia utility. Case, water, and ambient temperatures were taken using a Yokogawa DX112 chart recorder which utilizes a J type thermocouple.

This first graph shows the CPU temperature comparison between the XP-120 and the Reserator. As you can see there is not much of a difference between the two temperatures. As a side note I did notice that the CPU stayed just about a solid 4 degrees warmer than the water temperature inside the reservoir while under load.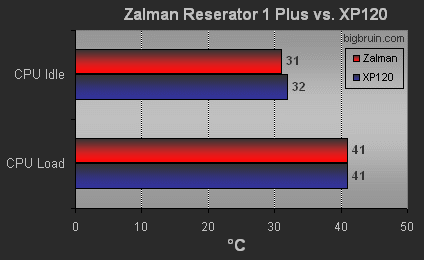 The next graph shows the video card temperatures. Here we see a huge drop in temperature, more than 20ºC on each card while under load!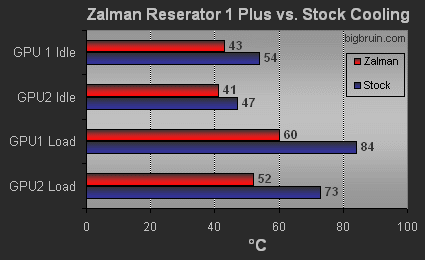 This last chart is taken from the Yokogawa DX112 chart recorder. As you can see it is monitoring the temperatures of the water, case and ambient air. The scale below shows a temperature range of 20-40ºC or 2 degree divisions and a time range of 6 hours or 1 hour per division. The time begins at the startup of the computer which is a cold start, being more that 18 hours since it was shutdown. For the first hour the computer is left idle, after the first hour is up I started Prime95 and let it run its torture test for 30minutes. Oddly enough Prime95 didn't have much effect on the water temp. After running the torture test I ran 3 consecutive runs of 3Dmark03. By this time you see the case and water temperatures are pretty hot. For the next hour the computer is left at idle, after this time it was shut off while still recording the temperature. This sets up a nice trend and allows us to see how fast the water heats and cools in its giant reservoir. Also, as a note, the CPU follows this trend at approximately 3-4°C above the water temp.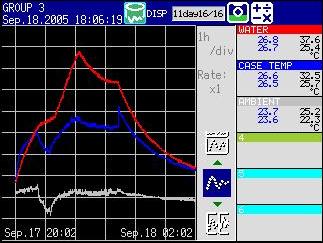 Please read on to the next page for more... Next




Page 1 | Page 2 | Page 3 | Page 4 | Page 5 | Page 6 | Home | Forum | Content Index