RaidMax X1 ATX Gaming Case - Page 1 of 6

Raidmax has been building cases, power supplies, and cpu coolers for 5 years, and has recently started making a name for themselves in the gamers' market with cases such as the Samurai and the Cobra. Continuing their tradition of new and unique case designs, Raidmax has recently introduced the X1, offered in silver/white, and black/silver. The X1 has a sleek clean look that includes an over-sized door, and a LCD that provides you temperature, fan information, and hard drive access indication.


Specifications (taken from the Raidmax website):

Raidmax proudly present the X1. The X1 has everything necessary to keep cool and look good. The X1 features real time thermal LED display, dual 120mm fans, a mirror shine paint job, an aluminum front door panel, and yes... screwless design for easy installation.

Case Features:

• Real Time Thermal LED temperature display
• Custom side panel window with LED fan
• 2 Front USB 2.0 access ports
• Front Audio jacks
• Super Silence 120mm case fan
• Temperature responsive cooling fans
• Meets Intel CAG Regulations
• Intel Prescott Ready

• External Drive Bays: 5 x 5.25" and 2 x 3.5"
• Internal Drive Bays: 3 x 3.5" H.D.
• System Board: ATX Form Factor 12" x 10.5" or smaller
• Expansion slots: Standard ATX 7 slots
• Material: SECC Steel
• Power Supply: 450watts PS2 ATX12V Power Supply

X1 Packaging:

Packaging doesn't mean much to me, as long as it is sufficient to allow the item to arrive at the final destination undamaged. The packaging that the X1 arrived in was colorful and informative, which would be helpful in a retail setting. The box is sufficiently strong to ensure there is no major damage to the case. Within the box, the case was packaged in a plastic bag, held in place by two large Styrofoam blocks. Nothing unexpected, it was all as it should be.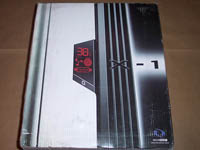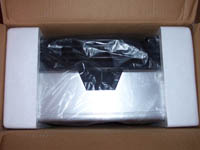 Please read on to the next page for more... Next




Page 1 | Page 2 | Page 3 | Page 4 | Page 5 | Page 6 | Home | Forum | Content Index

Page Views: 18073