Mutant Mods Modding Gear - Page 4 of 4

Blue Light Up USB Cable:

The final item in the Mutant Mods bag of goodies is a light up USB cable. Blue LEDs are installed at either end of the cable to let the owner bring the modding action outside of their case. The following features and specifications are taken from the Mutant Mods website...

Features:

• Draws power through USB port so no external power source is necessary
• Data transfer rates of up to 480 Mbits/sec
• Molded strain relief increases flexibility and durability while minimizing data loss from cable stress
• Hot Pluggable; allows swapping of live devices

Specifications:

• Connector A: USB A Male
• Connector B: USB B Male
• Color: Blue
• Product Length: 1829 mm
• Maximum Data Transfer Rate: 480000000 Bits/Sec
• Shipping (Package) Weight: 113.4 g

Here we have one more vibrantly green and black retail package...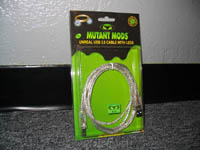 When not in use, the cable looks like it might be a typical silver braided USB cable. Definitely more attractive than alot of the beige ones I have in use, but its when you plug this cable in that it really stands out.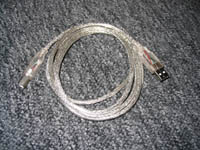 The images below show the USB B end when not in use, and then all lit up. The lighting is very intense, and although it may look almost white in the picture, it is definitely blue in person.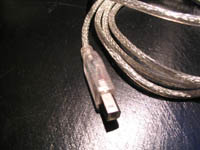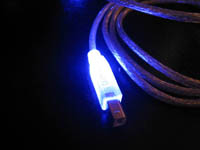 Some light up USB cables on the market will blink to indicate activity, but not this one. It is just on constantly from the time you plug the A end into your computer, regardless of whether anything is connected to the B end or not (as is evident by the fact that it is lit up in the above images). The USB A end is pictured below just to show that it lights up just as well as the USB B end.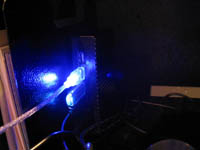 The cable looks cool in action, but it needed to be tested for performance. I used SiSoft Sandra to test the data transfer capabilities from an external hard drive (200GB Western Digital drive in a Vantec Nexstar enclosure) using the stock cable and the Mutant Mods LED cable. The results from the same test run on the IDE cable show that this hard drive was capable of 23 MB/s regardless of the cable used. Good looks and solid performance, too.

Conclusion:

The Mutant Mods "Where to Buy" page lists several outlets that carry their modding items. As I mentioned before, I found it unusual that all of these stores are more mainstream, and not the names one might usually associate with modding items... like Jab-tech, Xoxide, Crazy PC, and so on. Finding all of the items reviewed at any one store is tricky, and I was only able to do so at TheNerds.Net.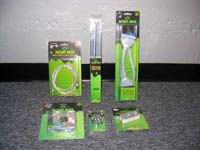 Price Grabber may be your best bet in locating any and all of the Mutant Mods, since it provides search results broken down by the specific item. For example, these search results show that the 80mm blue LED fan can be purchased for as low as $3.99, making it competitive with just about any other LED fan online. This set of search results shows that the lighting sound controller is available from eleven different locations for as little as $5.04 (US). The meteor light's search results show that for just under $15 you can added this unique effect to your case as well. And... for those who want to take the mods outside the case, these search results show that the LED USB cable can be picked up from a handful of stores for just over $3.

The pricing on these items is generally fair and competitive, and the only item I might balk at is the EL IDE cable, which was listed at over $20 at many places I checked. In general, the EL IDE cable is the only device of the six that wouldn't earn my praise. In addition to the price, there was the issue with the inverter making noise, as well as requiring a separate 4-pin power connection instead of just providing a pass through connection.

Giving a final rating to a collection of mod items is tricky to me... There really is no performance gains to evaluate, there is no necessity, and it all comes down to aesthetics and novelty. But, the quality of the items is respectable, the prices generally make them a good value, and if you are looking to trick out a computer system, Mutant Mods may be your one stop source for everything. Although we reviewed just six items from them, their line up is far more extensive and may offer something for just about anyone.

For the reasons listed above, I have to give the Mutant Mods a 4 out of 5..."Recommended".

Final Rating (4 out of 5 stars):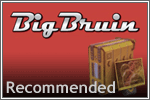 Pros:

• Generally good quality components
• Good value

Cons:

• LED fan should include a 3-pin to 4-pin adaptor
• EL IDE cable inverter made a whining noise during operation
• EL IDE cable price seems high for what it is
• EL IDE cable power lead should have a 4-pin pass through connection

Special thanks to Mutant Mods for providing a selection of their modding gear to Bigbruin.com for review!

Please drop by the Bigbruin.com Forum and feel free to discuss this review.

Page 1 | Page 2 | Page 3 | Page 4 | Home | Forum | Review Index