Mutant Mods Modding Gear - Page 1 of 4

Modified components used to be only for the enthusiast computer builder, while the majority of people had plain vanilla, stock items in and on their systems. My have things changed! So many 'custom' items are now available, the line between custom and stock has been obliterated

Modding is big business, or at least it appears to be by the number of players in the market. One of the names you see quite often at places like CompUSA, buy.com, PC Connection, and other mainstream online outlets is Mutant Mods. Mutant Mods offers a full line of mod products backed by their mainstream parent company, Startech.com. We have conducted reviews of Startech.com products in the past, and the Mutant Mods seem to be a whimsical departure from their typically more serious offering. Where you might expect to find modding items from smaller manufacturers at specialty outlets, Mutant Mods seem to come from the opposite end of the spectrum. Lets see if the Startech.com approach to modding yields favorable results...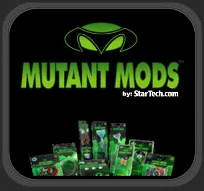 Up for review is a selection of six different components from Startech.com's Mutant Mods line up, including the following items:

• Skull Thumb Screws
• Blue LED 80mm Fan
• Blue Meteor Light
• Lighting Sound Control Module
• Blue EL Lighted Rounded IDE Cable
• Blue Light Up USB Cable

So let's start at the top of the list and work our way through all of these items!

Skull Thumb Screws:

Thumb screws can be a convenient way to secure the sides of a case, the expansion cards, or anywhere else that will accept this size thread. The Mutant Mods kit includes 10 screws, meaning the typical case should be well covered by using four for the side panels and perhaps the other six on expansion cards. The following features and specifications are taken from the Mutant Mods website for their skull design thumb screws...

Features:

• Fits anywhere: outside your case, PCI slots, AGP slots

Specifications:

• Shipping (Package) Weight: 99.79 g
• General Specifications: Diameter: 0.31 Inches (8.0 mm)
• General Specifications: Thread: 0.13 Inches (3.3 mm)
• General Specifications: Finish: Brushed Steel

The thumb screws, like all of the Mutant Mods products, come in the vibrant green and black retail packaging shown below. In addition to providing a good look at the product, the back side features some basic information on them.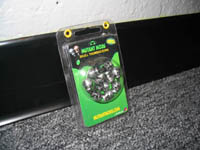 When I first saw the package of thumb screws I had a flashback to the review of Sunbeamtech's thumb screws. Not only is the product identical, the packaging is almost the same as well. I can picture some overseas factory cranking out OEM skull screws grumbling about how Americans will buy anything!

Just as with the Sunbeamtech screws, the detailed design work and the metallic surface finish are both very well done. My complaint on the other skull thumb screws applies to the Mutant Mods version as well... The narrow diameter and generally smooth surface can make use difficult. You really need to squeeze them to get a good grip, which is not a feature of more typical thumb screws.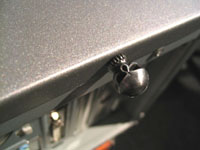 As seen above, they look pretty sharp when installed, and if you are looking to add a subtly sinister flavor to your case, these may help.

Please read on to the next page for more... Next

Page 1 | Page 2 | Page 3 | Page 4 | Home | Forum | Review Index | Page Views: