Mutant Mods Modding Gear - Page 3 of 4

Lighting Sound Control Module:

The Mutant Mods Lighting Sound Control Module is an add on device that can be used with a variety of lighting products, but we will be checking it out with the Meteor Light. The following features and specifications are taken from the Mutant Mods websites...

Features:

• 4 settings: Off/On/Sound CTRL/Flash
• Adjustable sound sensitivity knob allows you to control the sound level at which your lighting reacts to sound
• Comes complete with adhesive backed touch fasteners providing you with increased flexibility when positioning your module
• Stylish aluminum finish

Specifications:

• Color: Gray
• Connector Types: LP4 Male
• Product Height: 20 mm
• Product Length: 70 mm
• Shipping (Package) Weight: 90.72 g
• Product Width: 30 mm
• General Specifications: Voltage: 12V DC

The compact unit ships in the typical green and black packaging pictured below.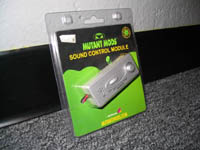 The below left image shows the device unpacked. It includes the silver fronted control module wired to a 4-pin power connection, and can be affixed to your case via adhesive found on the back of the unit. In order to use this with the Meteor Light, the expansion slot cover with all the wires used in the previous phase of the review needed to be removed. The control module is dropped into its place, and the light is once again functional.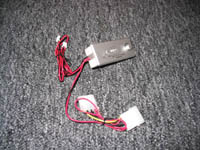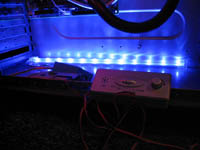 The above right image shows the sound control module controling the Meteor Light. Three modes of operation are available, with the most interesting being the ability to sequence the lights to the sounds/music it senses. I did a little whistling and clapping and the lights responded. I turned on some music and it created a disco effect of pulses. It was definitely novel.

Sensitivity seemed to be its only issue. Once my case was closed up, it could not sense the music as well, and the effect wasn't as impressive. Setting it to Flash mode seemed to be the best bet until I found an exposed location for the controller. Overall, I think I liked the random effects achieved by the Meteor Light's control better anyway.

Blue EL Lighted Rounded IDE Cable:

Next up is a rounded IDE cable with an interesting twist... A blue electro-luminescent wire wrapped around it to provide yet another unique lighting effect. The following features and specifications are taken from the Mutant Mods websites...

Features:

• Constructed with 80 wires for faster communication with Ultra 133/100/66 IDE hard drives
• Made of flexible rubber sheathing of various lengths which eliminates the need to relocate devices
• Cables take up less space thereby reducing the clutter and allowing for better air flow

Specifications:

• Connector A: IDC 40 Female
• Connector B: IDC 40 Female
• Connector B: LP4 Male
• Color: Blue
• Product Length: 610 mm
• Shipping (Package) Weight: 235.87 g
• General Specifications: Length: 24 Inches (610 mm)
• General Specifications: Connectors: Three IDC 40 Female connectors and one LP4 connector

Below we have a look at the retail packaging that the EL IDE cable is sold in...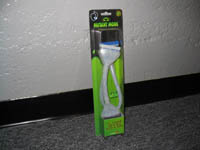 I initially had two concerns regarding this product... The first is that you are wrapping your data cable inside the electrical field (no matter how small) created by the EL wire. I know these cables are shielded, and not being an electrical engineer I should leave these concerns to the experts, but it does seem like a potential source of performance degaradation. The second concern is regarding the power lead. You have a 4-pin Molex connector at the drive end of the IDE cable, but it is not a pass through connector. I assumed I could plug this inline between my hard drive and power supply's lead, and was a bit disappointed to see I needed a separate power lead for this.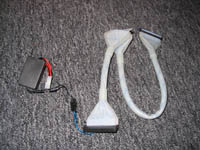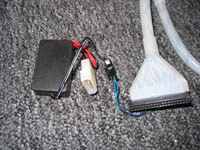 I had never used an EL lighted IDE cable before and the effect was interesting. It looks cool installed, but this is one of the few items that needed to be tested for performance. I used SiSoft Sandra to test the data transfer capabilities from a 40GB Maxtor ATA-133 hard drive using my usual silver braided round IDE cable from Jab-tech, as well as the Mutant Mods EL Lighted Rounded IDE Cable. The results were identical, and both cables allowed the drive to achieve a score of 38 MB/s.

The cable has an inverter with a switch that allows the lighting to be turned off, on constantly, or flashing on/off. The image below shows the cable in action, and it does look pretty sharp.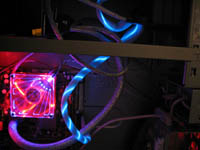 After getting over my intial concern about signal degradation, I have another one to replace it. The inverter makes a high pitched noise when powered on. With the case open it is quite obvious, but sealing everything up makes it less so. With the unit on constantly, you have a constant noise, and with it set to flash, you have a pulsing effect in the noise as well. Definitely not a welcome effect, but it can be remedied by wrapping the inverter in tape/foam to insulate the noise and hiding it deep within your case. I also found that orientation of the inverter changed the level of noise. Having it upside down was the worst, so experiment with that during installation if you experience similar issues.

Please read on to the next page for more... Next

Page 1 | Page 2 | Page 3 | Page 4 | Home | Forum | Review Index