Mutant Mods Modding Gear - Page 2 of 4

Blue LED 80mm Fan:

LED fans are available just about anywhere, and come in a variety of colors, lighting effects, and oh yeah, different fan performance levels. Mutant Mods offers their LED fans in red, green, blue and tri-colored, but we seem to have a blue theme going in this review, so that is cool. The following features and specifications are taken from the Mutant Mods website...

Features:

• Constructed of clear acrylic for maximum LED visibility
• Uses a dual ball-bearing design to keep your system cool while enhancing the visual effect
• Quad-LED construction
• Backed by a 1 year warranty

Specifications:

• Air Flow Rate: 37.27 CFM
• Color: Blue
• Connector Types: TX3 Female
• Enclosure Type: Plastic
• Fan Bearing Type: Ball Bearing
• Product Height: 80 mm
• Input Current: .13 Amperes
• Input Voltage: 12 DC Volts
• Product Length: 80 mm
• Noise Level: < 27 dBa
• Number of Conductors: 3
• RPM: 3000
• Shipping (Package) Weight: 136.08 g
• Product Width: 25 mm
• General Specifications: Dimensions: 3.15 x 3.15 x 0.98 Inches
• General Specifications: Fan Enclosure: Plastic

The fan itself has decent specifications, offering a good amount of airflow (37.27 CFM) at the top speed (3000 RPM). The noise produced is rated at less than 27 dBa.

Below we see more of the vibrant green and black retail packaging, this time holding the 80mm LED fan. In addition to providing a good look at the product, the back side features the basic specifications and features (basically what is listed above).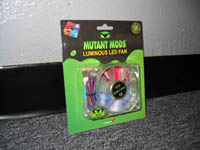 The below left image shows that the fan comes with a decent length 3-pin power lead and a bag of four mounting screws. The one thing I would have liked to have seen is a 3-pin to 4-pin power adaptor. I have gotten used to receiving these with the fans I purchase, and the flexibility of having both just makes installations that much easier.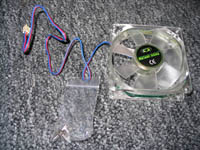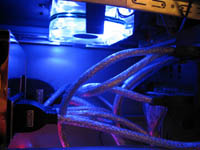 The action shot above came out really well, and shows just how bright this fan is. The 4 blue LEDs really kick out some serious candle power, and a few of these would easily light up a case. The 3000 RPMs produced a bit more noise than the other fans in my case (rated at about 2400 RPM), but I could feel that more air was being moved. Adding a fan controller would remedy that, and this fan would probably still put out more light than my other LED fans.

Blue Meteor Light:

The Meteor light is very similar in construction to a cold cathode fluorescent light, but features multiple LEDs in the tube that can sequence in a variety of lighting patterns. The following features and specifications are taken from the Mutant Mods website...

Features:

• 8 different lighting effect settings
• Comes complete with adhesive backed touch fasteners providing you with increased flexibility when positioning your meteor light tubes
• Supports up to 2 meteor light tubes on one inverter unit

Specifications:

• Color: Blue
• Connector Types: LP4 Male
• Input Voltage: 12 DC Volts
• Product Length: 300 mm
• Shipping (Package) Weight: 158.76 g

Once again we have a descriptive package in vibrant green...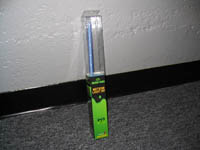 The below left image shows how the Meteor light is packed, and all of the accesories are zip tied to the tube. Once cut away, all of the items shown in the below right image can be seen. You have the light tube with sheathed power lead, an expansion slot cover with power switch and setting control button, a few Velcro mounting tabs, and the power inverter.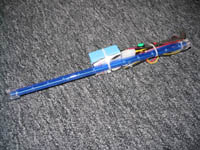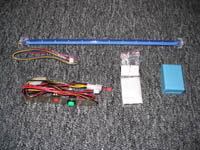 The expansion slot cover is hard wired to a 4-pin Molex connection that receives power for the Meteor light straight from your PSU. The inverter is then connected to two other leads, and the Meteor light is then connected to another plug on the opposite side of the inverter. Connections are provided for up to two lights to be connected to the inverter, but we will be testing with just this one.

The images below capture my attempts to document the performance of the Mutant Mods Meteor Light. The lights are extremely bright and throw off a good deal of blue lighting. Although my two shots show all of the lights on (at different levels), the lights sequence and chase in some modes of operations, flash, and fade in/out in others. It does have 8 different effect settings, but some do seem similar.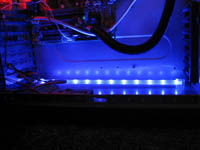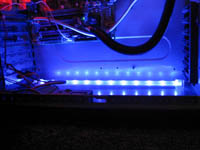 With all of the wires required for operation, a neat installation can be difficult. The images above were in my preliminary stages of installation, and later I was able to hide the inverter and majority of the wires quite well. It just takes some patience, and a bit of wire management to make it presentable.

Please read on to the next page for more... Next

Page 1 | Page 2 | Page 3 | Page 4 | Home | Forum | Review Index