Snap Appliance Snap Server 1100 - Page 1 of 7

While taking up considerably less space than a shoebox, this little device seamlessly allows users to add additional storage to any network in less than five minutes. Today we review the Snap Appliance 80GB Snap Server 1100. This compact NAS (network attached storage) device has many great features including: 5 minute installation, a compact web and ftp server, or simply a network share. Most importantly it works in a network mixed with Windows, Netware, UNIX, Linux, and Macintosh machines.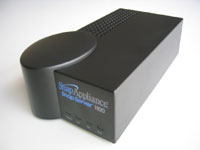 Company Profile (from the Snap Appliance site):

"Snap Appliance is the worldwide volume leader in network attached storage (NAS) products. Today we offer the successful Snap Server® family of Network Attached Storage servers. Our solutions combine the most reliable and cost-effective technologies with industry-leading ease of integration.

Future products will continue to offer the same cutting edge capacity, technology and remarkable ease of use that has become our hallmark. Snap Appliance will expand its current NAS leadership position to provide simple, dramatically scalable storage solutions for workgroups and enterprises.

Together with our worldwide vendor partners, we will deliver dependable, simple to use and expandable data storage systems beyond simple networks. Our future focus is on bringing groundbreaking advanced data storage technology to our customers affordably."

Product Packaging:

The time and care taken to package the Snap Server was very apparent when removing this product from the box. Everything was individually packaged in a collection of boxes with a thick foam shell surrounding the device itself. (Be sure to note the agreement printed on the seal, which warns users to read the license agreement before proceeding with installation). There is no doubt the Snap Server will get to you unharmed; your investment will be well protected.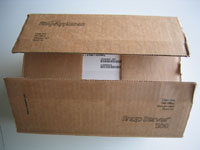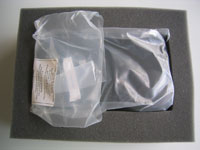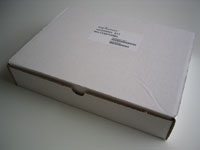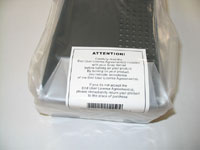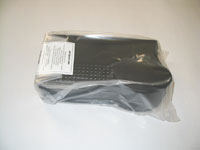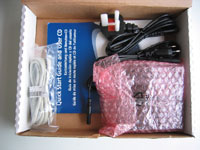 Product Specifications & Features:

The Snap Server 1100 has a surprising number of features for its small size. It's a very small device for all of the features it provides. The unit being reviewed at this time has a 80GB capacity and is less than 3" tall, 5" wide and 9" long.

Key Features:

• 250GB, 160GB, or 80GB Capacities (reviewed item has 80GB capacity)
• Portable (weighs 3.5 pounds)
• Affordable disk-based backup
• Simple, cross-platform file sharing for your network
• No user licenses required
• Quick installation
• User, share, and file-level security
• Automatic backup for Windows clients

For more detailed information check the Snap Server 1100 Datasheet.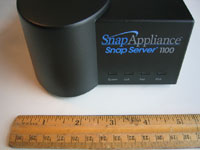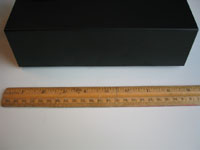 For another take on the Snap Server 1100's size, here it is side-by-side with the 80GB Ximeta Netdisk, previously reviewed at BigBruin.Com.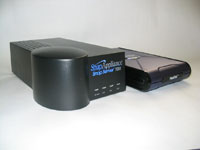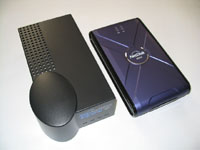 Please read on to the next page for more... Next

Page 1 | Page 2 | Page 3 | Page 4 | Page 5 | Page 6 | Page 7

Home | Forum | Review Index | Page Views: