4 Channel Wireless Camera System - Page 1 of 2

In today's world we have to live with the reality that cameras are everywhere. You never know when or where you are being watched. Ever feel like you would like to do some surveillance of your own? Well now with the help of the people at Geeks.com you can, and it is easier and cheaper than you might have thought with the use of the 4 Channel Wireless Camera System.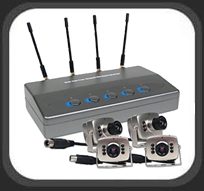 The Basics:

The kit comes with everything you need to start your surveillance, minus the TV monitor and a couple of screws to mount the cameras. It is somewhat unusual but nowhere on the box, on the components, or in the manual, is there a mention of who the manufacturer is. Geeks.com does carry a variety of unbranded and generic mechandise, and this kit is just one of those.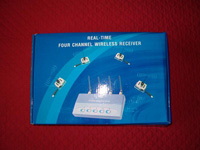 Retail Package Includes (from the Geeks.com website):

• Wireless Receiver
• Four (4) Miniature cameras
• Four (4) Camera power/9-Volt battery adapters
• Four (4) antennas
• User's Manual
• Five (5) A/V cables
• Four (4) Camera AC adapter (120V AC, 60Hz; 8V DC, 200mA)
• Receiver AC adapter (100-240V, 50/60Hz, 0.25A)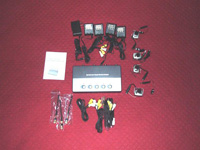 Specifications (from the Geeks.com website):

• General Features:
• 4-channel wireless receiver
• Miniature color video cameras
• PAL/NTSC/SECAM AV system
• PLL frequency control
• -85 dB sensitivity • 200 m effective distance (656.16 ft, approximate)
• 3 seconds auto change output
• Receiving Frequency:
• Channel 1: 1080 MHz
• Channel 2: 1120 MHz
• Channel 3: 1160 MHz
• Channel 4: 1200 MHz
• Receiver Connectors:
• Four (4) antenna connectors
• Four (4) A/V connectors
• DC-in 5V
• Receiver Dimensions: 1.75 x 8 x 4.5-inches (H x W x D)
• Camera Dimensions: 1.25 x 1.25 x 1.5-inches (H x W x D)

The Receiver:

The receiver is the heart of the system, and is simple to setup and operate. On the top of the unit are 5 buttons. Buttons 1-4 will select and individual camera to view, and button 5 sets the cameras to scan through all four cameras at a 3 second interval.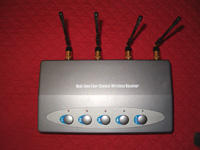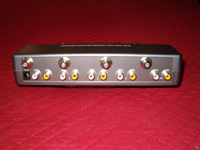 On the back of the receiver we find jacks for the 4 antennas, RCA jacks for audio/video on each camera channel, and a set of audio/video jacks to connect all four channels to one monitor. This setup allows you to use a different monitor for each camera, or to use one monitor to either scan the four channels or lock onto an individual channel. It would be nice if we could put all four cameras on screen at one time but this is not possible with the system, as is. The manual does mention that this is possible with the use of what they call the "Quad Processor" but offers no information beyond that and since I do not know who manufactures it, I was unable to find any more information on the "Quad Processor".

Please read on to the next page for more... Next

Page 1 | Page 2 | Page 3 | Home | Forum | Review Index | Page Views: