Ultra Products X-Finity 600W ATX PSU - Page 3 of 4

Testing:

Performance Testing: - The Ultra Products X-Finity 600W ATX PSU was tested head to head with another Ultra Products PSU, the 500W Xconnect, reviewed here. This should provide a good point of comparison for a power supply in the same general range of output, as well as one from the same manufacturer.

The testing of the power supply will be focused on determining how much the main voltage rails (+5V, +12V, and 3.3V) fluctuate from idle conditions to full load conditions. A Radio Shack multi-meter (Cat. No. 22-810) was used to record all voltage readings.

The idle condition was established by powering the base system at default speeds and voltages with no applications running for a period of at least 30 minutes. The load condition was established by loading the system up with components and fans, while Folding@Home and 3DMark03 ran for a period of at least 30 minutes. In addition to these stressful applications running, the loaded system was overclocked and overvolted to add more demand to the power supply. The table below details the idle and load conditions:


Idle
Load
Intel Pentium 4 2.6C @ 2600MHz & 1.525V
Abit IS7-G 865PE motherboard
1024MB Corsair DDR500 @ 400MHz DDR & 2.6V
2x 80GB Seagate SATA hard drives in RAID 1
Gigabyte Radeon 9600XT
1x IDE DVDRW drive
Fans: 2x120mm, 1x80mm, 1x92mm, 1x40mm
Sunbeam rheobus

Intel Pentium 4 2.6C @ 3003MHz & 1.550V
Abit IS7-G 865PE motherboard
1024MB Corsair DDR500 @ 462MHz DDR & 2.8V
2x 80GB Seagate SATA hard drives in RAID 1
Gigabyte Radeon 9600XT
1x IDE DVDRW drive
Fans: 3x120mm, 3x80mm, 2x92mm, 1x40mm
Sunbeam rheobus
2x 40GB Maxtor ATA-133 hard drives
1x USB TV tuner (powered by USB bus)
2x USB thumb drives
1x USB hard drive
1x Firewire hard drive
1x Firewire DVDRW drive


The chart below details all of the voltages recorded during testing...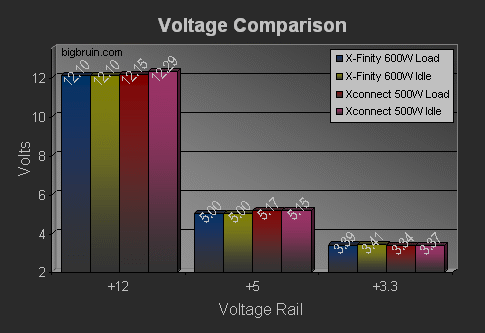 After reviewing the chart, it is clear that the X-Finity provides solid voltage rails. The +12V and +5V rail readings didn't flinch from the idle to load conditions, and even during testing there was no fluctuations on either except for the occasional (and brief) 5.01 reading on the loaded +5V rail. Taking these readings was simple, as the multimeter's display seemed to be static, despite its constant updating.

In addition to minimal fluctuations, the +12V and +5V rails were held very tightly to the specifications. I don't think I had ever actually experienced a 5.00 reading on a +5V rail, and a stable 12.10 reading isn't too shabby, either.

The Xconnect 500W power supply has been in use on a daily basis for about 7 months, and the testing provides a nice update on long term stability of the unit. The Xconnect readings are also well within the generally accepted +/-5%, but they do fluctuate a bit, and they aren't nearly as impressive as the X-Finity's readings.

Efficiency Testing: - As a second phase of testing, the two power supplies were connected to the Seasonic Power Angel power monitor, and data was recorded with the systems in the fully loaded condition, described previously. The Power Angel can provide a good deal of data regarding the electrical consumption of a device, but I was strictly interested in investigating the published efficiency of 70%.

The PF (power factor) value for each unit was recorded, and it is very clear that neither unit is overly impressive with their respective efficiencies. The Ultra Products Xconnect 500W unit came in with a meager 0.62 (62%) and the X-Finity 600W unit did marginally better at 0.64 (64%). In recent reviews of other high powered PSUs, the use of active PFC has made a huge difference in efficiencies. In other tests, an AC Ryan 550W unit and an Enermax 600W unit both provided efficiencies of about 99%.

If Ultra is looking for any possible way to improve their power supplies, perhaps an active power factor correction model of each would be a good direction to take! Power supplies with lower efficiencies not only mean you are wasting more electricity to power the same computer, but that extra power is all being converted to heat inside your system!

Noise Testing: - As a final phase of testing, and a new one for power supplies at Bigbruin.com, I checked the noise output using a calibrated Extech Instruments brand sound level meter. Although an ideal test setup is not available, the following criteria was followed, and should provide a good point of reference between the two power supplies tested.

First, a base reading was taken with the sound meter placed on the floor in the middle of my 8'x10' office with nothing running. Next, each of the two power supplies was tested separately by placing them on the floor and powering them up using a jumper on the ATX power connector. The meter and the particular power supply being tested were placed 1 meter apart, and kept as close to the center of the room as possible (see basic setup below).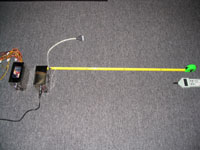 The noise level of the 'still' room was reported as 33-34 dBA. The 500W Xconnect unit produced a reading between 39 and 40 dBA and the 600W X-Finity produced a reading between 40 and 41 dBA. Both are fairly quiet, just a few dBA over the noise level of the 'still' room, and they produce similar tones as they operate. Even without any calibrated instrumentation, I can tell that the X-Finity was slightly louder. Over the several months that I have owned the Xconnect PSU, there have been a few times that I have actually checked the fans to see if they were running. The X-Finity may be marginally louder, but in a typical system I have a feeling the noise will be quite difficult to distinguish.

Please read on to the next page for more... Next

Page 1 | Page 2 | Page 3 | Page 4 | Home | Forum | Review Index