Ultra Products X-Finity 600W ATX PSU - Page 1 of 4

Power supplies used to be the most overlooked component in a system, but manufacturers have taken great measures to make sure that is no longer the situation. They weren't just overlooked in terms of appearance, but also for performance, as it was taken for granted that the power supply that was good enough for your system a few years ago would still be good for your system today.

The demands of high end computer systems have forced the need for the typical power supply to be in the range of 450 Watts or higher, and many today are 500W or 600W! Even those who don't need such a beefy power supply are hard pressed to justify buying a smaller unit, as the price differential really makes the big units quite attractive. Speaking of big and attractive, those would be two key words to describe the power supply up for review... The Ultra Products X-Finity 600W ATX PSU.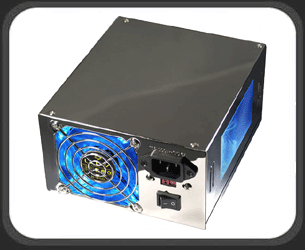 The X-Finity boasts a maximum power rating of 600 Watts, and provides all of this juice inside a slick mirror finished housing with two acrylic windows and two blue LED fans. The specific unit to be reviewed features their "titanium" finish (pictured above), but those with other color schemes in mind can choose either black or blue.

Before taking a look at the actual unit and what it can do, let's look at some published data on the X-Finity 600W power supply.

Features (from the Ultra Products website):

• High-Gloss Mirror Finish
• Dual 80mm Fans
• Low Acoustic Noise
• Supports Pentium 4 and AMD CPUs
• Meets ATX Version 2.03 and ATX 12V Version 1.2 Specifications
• MTBF > 100,000 Hours at Full Load, 110VAC and 25°C Ambient Condition
• Serial ATA Drive Connectors (2)
• 20-Pin to 24-Pin Motherboard
• Power Adapter Included
• Power Protections:
&nbsp&nbsp&nbsp• Short Circuit
&nbsp&nbsp&nbsp• In-rush Current
&nbsp&nbsp&nbsp• Thermal Overload
&nbsp&nbsp&nbsp• Over-Temperature
&nbsp&nbsp&nbsp• Over-Voltage
&nbsp&nbsp&nbsp• Over-Current
&nbsp&nbsp&nbsp• Under-Voltage.

Specifications (from the Ultra Products website):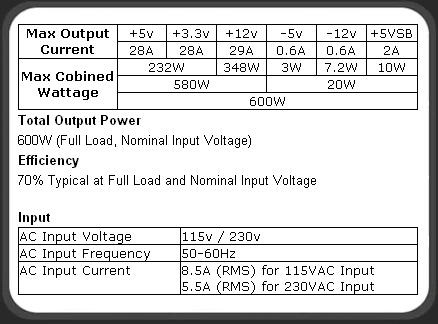 The voltage rails of most interest (12V, 5V, and 3.3V), don't have the strongest published specifications that I have seen, but they are far from the weakest. It is interesting to see all three rails provide nearly identical Amperage, as there is usually a larger difference between the three.

Physical Features:

The power supply ships in the box pictured below. You get a good look at the features, specifications, the unit itself, and the warranty information. All Ultra Products power supplies have a three year warranty as standard procedure, which is fairly typical. But, register the product in the first thirty days of ownership, and you know had a lifetime warranty! Very nice!! More information on that is available here.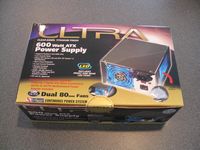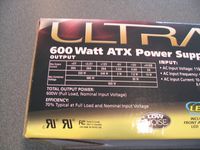 The above right image provides another look at the specifications, as well as the claim that the unit is only 70% efficient at full load. With all of the buzz over active PFC, and the general desire to be more energy efficient, that is a bit of a downer. We have reviewed other high-powered power supplies recently that offered efficiencies over 95%, which means you use less electricity from your wall outlet to provide the same power to your system.

Please read on to the next page for more... Next

Page 1 | Page 2 | Page 3 | Page 4 | Home | Forum | Review Index | Page Views: