Thermaltake Soprano ATX Case - Page 4 of 4

Installation:

Installing the components was a breeze. There is plenty of room inside the case to mount everything. As with most modern cases, all the edges are either rolled or smoothed so you don't have to worry about slicing up your hand during installation. As you can see, the location of the hard drive bays is pretty standard. While I haven't seen any performance increase in rotating the drives as in the Thermaltake Shark, it would have been a nice change for the Soprano to have the drives in this orientation.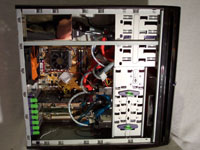 The tool-less 5.25" drive rails are very simple to install, they just snap into the screw holes on your drives. Just make sure they go into the bottom set of screw holes and you won't have any problems.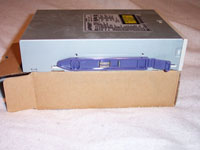 The floppy and hard drive tool-less mounts are a different story. These also snap into place, but instead of sliding into place as the rails do, these have to twist to lock into position. This was a little difficult to do. You have to really push them in and twist them. During installation, I broke one of the hard drive mounts, and damaged another; it should be noted the damage was done on the sixth time installing a drive. At first I thought they only included enough hard drive connectors for two and a half drives, which I found odd. During installation, I found that you only use one of the connectors per drive, so they have provided enough for five drives. This is good, but it doesn't have anything on the other side to stabilize the drive. I took off the other side panel, and put a screw in the big 300GB drive for a little extra security.



Previously, these components were installed in a generic mid-size tower. The ambient temperature was usually 8C (idle) - 11c (load) warmer than the CPU temperature, which caused the panels of the case to be noticeably warm. Once the components were installed and allowed to run for a couple of hours, I noticed the ambient temperature of the case was only 2c (idle) - 5c (load) warmer than the CPU. Lowering the temperature of the case and components is always a good thing.

Conclusion:

The Soprano is easily at the top of its class for looks. I would certainly not have any problem having this case sit in the family room, office, or professional studio. It also gets high marks for its performance.

Some of the issues I encountered were minor, and many people won't encounter the issues with the hard drive connectors. A way to store the various connectors would be helpful. Granted, you can install the hard drive and floppy connectors in empty drive bays, but the 5.25" rails are not installable without a drive and if you loose the 5.25 drive rails you can't install any other 5.25 drives!

These search results from Price Grabber show that the price of the Soprano is pretty reasonable, perhaps less than I expected. Several places, including Newegg, Zipzoomfly, eCost, and Xoxide carry the Thermaltake Soprano with a price tag just under $80 (US). Not bad!

This case is absolutely beautiful to look at. Unfortunately, some of the faults of it impact the overall score, as the looks only go so far. Overall I have to give this a 4 out of 5..."Recommended".

Final Rating (4 out of 5 stars):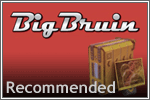 Pros:

• Beautiful Paint Finish
• Well placed USB/Firewire ports
• Filter for front 120mm intake fan
• Able to remove one expansion card without disturbing all the other cards
• Dual 120mm Fans

Cons:

• No place to store tool-less drive accessories
• Can't install 5.25" drives without tool-less drive rails
• Hard Drive tool-less connectors broken easily
• Nothing on other side of hard drive for stability

Special thanks to Thermaltake for providing the Soprano Mid-Tower ATX Case to Bigbruin.com for review!

Please drop by the Bigbruin.com Forum and feel free to discuss this review.

Page 1 | Page 2 | Page 3 | Page 4 | Home | Forum | Review Index