Thermaltake Soprano ATX Case - Page 3 of 4

Interior Inspection:

Removing the side panel gives you a good view of some of the features of this case. In the front section of the case, behind the internal hard drive installation bays, you will find the 120mm intake fan. Like the other fans, this is a non-LED fan, but is a standard 120mm fan, so you can replace it if you want to add a little more style.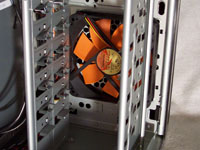 The only thing I noticed unusual was located in the back section of the case. Each one of the expansion slots is set up to be tool-less individually. This will allow you to remove one expansion card (i.e. video card) and not disturb any other cards (i.e. sound, lan, usb, etc).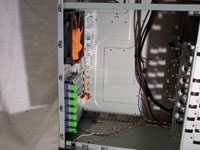 At the top of the case, there is a rather large block that houses the external USB, Firewire, and headphone/microphone jacks. I'm happy to see these ports are not at the bottom of the case as that is a common (and inconvenient) place for them. Previous to installing any drives in the top 5.25" drive bay I was concerned about whether the location of this block would interfere with the drives. I'm happy to report that there is enough room to install your 5.25" drives and connect any cables, without having to fight with this block. The cables for these connectors are long enough to reach any location within your case, but I would prefer them to be a little longer so you can route them around the inside of the case to help keep it looking clean. Thankfully Thermaltake has pre-wrapped these cables in a black plastic cover.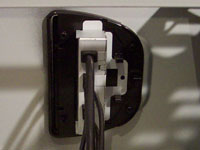 Finally, we have a selection of included accessories. Since this case is designed to be pretty much tool-less, they have included four (4) pair of tool-less 5.25 drive bay rails, one (1) pair of floppy drive (triangle pieces) connectors, five (5) hard drive connectors, a dust rag, installation manual, and a bag of mixed screws. Unfortunately, since these are all loose and there is no place to store them within the case, you have to keep track of them. If you lose them, you can't install any drives in the 5.25 drive bays without them!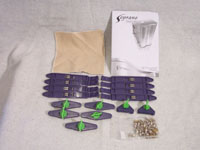 The image below was taken from the Thermaltake website and shows an overview of the open Soprano case. Among other things, note the location of the tool-less drive rails, as they would be when installed.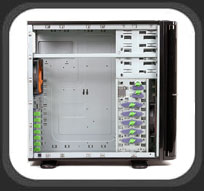 (click image for larger view)



Please read on to the next page for more... Next

Page 1 | Page 2 | Page 3 | Page 4 | Home | Forum | Review Index