Thermaltake Soprano ATX Case - Page 1 of 4

When computers were first introduced into our homes, they were designed to be functional, and not meant to be seen. Times have changed... almost as much attention is being paid to the way a computer looks as to how it functions. Thermaltake has taken this into consideration when designing new cases, one of their latest designs would look great in any room of the house. The case in question is the Thermaltake Soprano, and we'll see if it can perform as well as it looks.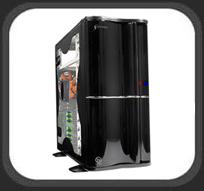 Features (taken from the Thermaltake website):

• High Efficient ventilation: Dual 12cm silent fan in front & rear, 9cm fan on side panel
• Tool-Free when installing 5.25" & 3.5" device
• Transparent X type side panel window
• Dual USB 2.0, IEEE 1394 Firewire, Audio & Speaker ports
• Retractable foot stand
• Highly flexible "Silent Purepower supply" unit supports PS/II for PC case (optional)

Specifications (taken from the Thermaltake website):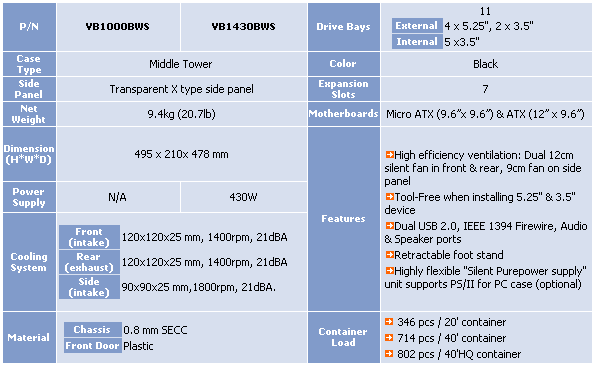 Soprano Packaging:

As with all of Thermaltake's retail packaging, the box that the Soprano resides in is colorful and provides ample information on the case inside. The front of the box gives you just a little snapshot of the case and its advantages.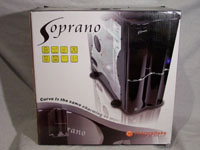 The backside of the box is where all the detailed information is. It gives you little pictures of what this case has to offer.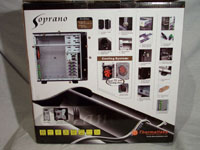 Opening the box, there is very little difference in the way this case is packaged from other case packaging. The case sits between two large fitted Styrofoam pieces. Usually cases are then enclosed in a plastic bag, but the Soprano is enclosed in a cloth bag that helps protect the paint finish from scratches.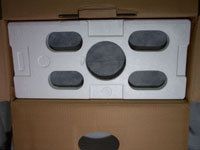 Please read on to the next page for more... Next

Page 1 | Page 2 | Page 3 | Page 4 | Home | Forum | Review Index | Page Views: