Thermaltake Armor VA8000 Tower Case - Page 1 of 6

Thermaltake is one of the first names that comes to mind when considering stylish computer cases that offer all the refined features that people have come to expect. In recent case reviews, such as for the Soprano and the Shark, we have seen that style, convenience, and performance are all things that Thermaltake does well.

Another thing we have come to expect from Thermaltake is that they will always be working on something new and exciting to release... And the product up for review surely won't disappoint. The VA8000 Armor Case is one of the latest offerings from Thermaltake is an ATX "Super Tower" chassis that can be retrofitted to be 100% compatible with the new BTX form factor.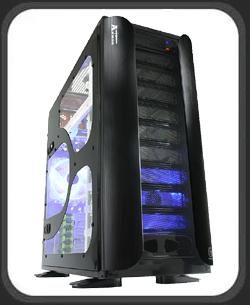 As seen in the promotional image above, the Armor case has a distinctive external appearance which is complimented by a variety of innovative internal features. Before getting into the nuts and bolts of this unique case, we'll take a look at the features, specifications, and a bit of metaphorical marketing provided by Thermaltake...

Thermaltake is proud to introduce their exclusive knight & shiny "Armor". With a whole new look and design, The Armor is a fully compatible Total Thermal Chassis. With its protective shield and prideful stance, the Armor is ready for any type of battle that comes its way.

Galloping through an air cooling system with two 120mm fans on the front and rear of the chassis, The Armor has an additional 90 mm fan in the top of the chassis for high efficient ventilation. With a structure so extreme, it is able to provide an excellent airflow throughout its entire body.

Jousting among a liquid cooling solution, The Armor is a fully compatible Water Cooling System. It contains retaining holes for any type of water cooling kits and is definitely the best choice for users who intend to use water cooling solutions.

Perhaps a bit corny, but I can follow their metaphor and it seems to fit this case quite well. Before taking a look to see how this may suit the case, let's look at some published data on the Armor.

Features:

• Removable HDD cage
• Tool-free installation for 5.25" devices
• Dual USB 2.0, IEEE 1394 Firewire, Audio & Speaker ports
• Relocateable front control panel (Power, Reset switch, HDD & PWR LEDs)
• Screwless slots for easy assembling
• 3 x 3.5" HDD module with 12 cm blue LED fan
• Retractable foot stand
• Accessory box Bundled in 5.25" drive bay
• HDD & FDD rack Relocate-able HDD & FDD drive bay
• Ventilation opening on top (62% opening ratio)
• Extra large thumb screws for easy open side panel
• Side Panel lock

Technical Information:

• Case Type: Super Tower
• Side Panel: Transparent side panel
• Net Weight: 16.2Kg
• Dimension: 530 x 220 x 560 mm (H*W*D)
• Cooling System
&nbsp&nbsp&nbsp• Front (intake): 120x120x25 mm, Blue LED Fan, 1300rpm, 17dBA
&nbsp&nbsp&nbsp• Rear (exhaust): 120 x 120 x25 mm blue LED fan, 1300rpm, 17dBA 90 x 90 x 25mm, 1800rpm, 19dBA
&nbsp&nbsp&nbsp• Top (exhaust): 90 x 90 x 25mm, 1800rpm, 19dBA
• Drive Bays: 11
• Front Accessible: 10 x 5.25", 2 x 3.5"
• Internal: 6 x3.5"
• Material Chassis: 1.0mm SECC Front Bezel: Aluminum
• Color: Black
• Expansion Slots: 7
• Motherboards: Micro ATX, ATX, Extend ATX, BTX

Packaging:

The Thermaltake Armor case ships in an absolutely massive box, pictured in the below left image. Various views of the case, basic features, and specifications are all printed for all to see, just as we have grown used to with cases from Thermaltake. The below right image shows the Armor box next to the box from the Sunbeamtech Transformer, which I thought was pretty big... First impressions have me thinking this case is going to be big one!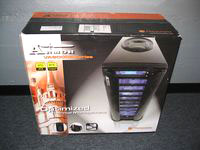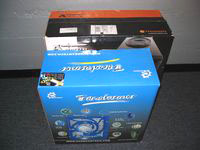 Please read on to the next page for more... Next

Page 1 | Page 2 | Page 3 | Page 4 | Page 5 | Page 6 | Home | Forum | Review Index

Page Views: