Sunbeamtech TRIO ATX Case - Page 1 of 6

Sunbeamtech was founded in 2000 and intially specialized in the manufacture of cold cathode fluorescent lamps (CCFL). Slowly they began to manufacture other mod gear such as fans, other lights, controllers, pre-modded cases (Transformer, and Samurai), and other accessories. Currently they have four (4) computer cases on the market and just releasing their fifth case, the mid-tower TRIO. The TRIO is available in three colors: black, silver and a combination of silver and black. The TRIO also includes three analog meters that measure sound pressure, temperature, and fan speed. I was recently able to acquire one of the new mid-tower TRIO cases for review... Let's see how their latest offering holds up.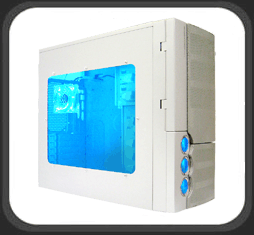 Specifications (taken from the Sunbeamtech website):

• Color: Black, Silver, Black/Silver
• Front I/O Port: USB2.0 + Audio + IEEE 1394
• Drive Bay External: 5.25" x 4, 3.5" x 2
• Drive Bay Internal: 3.5" x 5
• Side Window Optional: Acrylic Window
• Installation Screwless: Tool free kits
• Ventilation Rear: 12 cm x 1 or 8 cm x 2
• Ventilation Front: 12 cm x 1 or 8 cm x 4
• Weight N.W.: 7.8 kg
• Weight G.W.: 9.5 kg
• Dimensions: H 430mm x W 200mm x D 440mm

Packaging:

Packaging doesn't mean much to me, as long as it's sufficient enough to allow the item to arrive at its final destination undamaged. The packaging that the TRIO arrived in is colorful and informative, which would be helpful in a retail setting. The box is strong enough to ensure that there is no major damage to the case.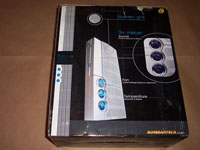 Within the box, the case is packaged in a plastic bag, held in place by two large foam blocks. Nothing unexpected, it's all as it should be.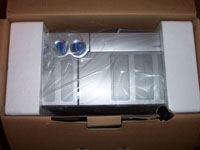 External Examination:

With the TRIO removed from the packaging, the first thing that caught my eye were the three analog meters on the lower left front corner. These measure sound, temperature, and fan speed. This is a nice look for the case, and although I'm not particularly fond of analog meters, these surprised me. The next thing I noticed is that the door covering the 5.25 drive bays is not solid; instead it has small holes that make the door almost see-through. This might not be bad if you have drive bay LCDs in there.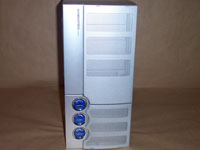 Please read on to the next page for more... Next




Page 1 | Page 2 | Page 3 | Page 4 | Page 5 | Page 6 | Home | Forum | Review Index

Page Views: