RaidMax Ninja 918 ATX Gaming Case - Page 1 of 6
Anyone who frequents Bigbruin.com should be familiar with the RaidMax name. They have been producing computer cases and accessories since 2000 and we have reviewed several of their products. They have developed a strong presence in the gamer's market with their line of "Gamer's Cases" and have earned a reputation for having distinctive styling, with top notch finishes, and a good value. Today we will be taking a look at another of their mid tower gaming computer cases, the Ninja 918. So let's dive right in to see what the Ninja 918 has to offer, and how it compares to other RaidMax offerings.


Packaging:

Other RaidMax cases I have reviewed came in what I refer to as a retail box with pictures of the case and some sort of description of the case on the box. The Ninja 918 did not, it came in a plain white shipping box.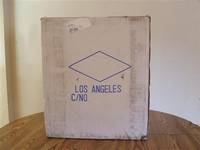 Inside the box we find the Ninja 918 packed in two Styrofoam end pieces and warped in a protective plastic bag. Even though the shipping box was pretty soiled and looked like it had gotten wet and bounced around a fair amount the Ninja 918 was in perfect condition on arrival.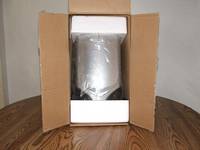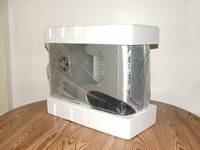 Once we get the case out of the box and opened up, inside the case we find an owner's manual and a box containing a bag of hardware, case feet, and an A/C power cord.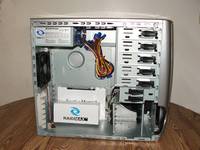 Specifications and Features (taken from the RaidMax website):

• ATX Form Factor 12" x 10.5" or smaller
• Standard ATX 7 expansion slots
• constructed with 0.7mm Japenness SECC
• 450watts PS2 ATX12V Power Supply(US SPEC)

• HDD Responsive Blue LED lights
• Custom side panel window with LED fan
• 2 Front USB 2.0 access ports
• Front Audio jacks
• Super Slience 120mm case fan
• Temperture responsive cooling fans
• Meets Intel CAG Regulations
• Intel Prescott Ready

Please read on to the next page for more... Next




Page 1 | Page 2 | Page 3 | Page 4 | Page 5 | Page 6

Home | Forum | Content Index

Page Views: 1481