Mini Hard Drive Mini Roundup - Page 1 of 5

Flash drives have become very popular due to their portability, ease of use, and their ever declining price. Currently you can find many 512MB thumb drives for around $30, which is great for the casual user looking to transfer documents from their home computer to work, or for sales people to carry their sales presentations to clients. Unfortunately these drives are limited in capacity, and don't fit the needs for those who need to transfer large amounts of data, movies, or music. For these applications the only option is a portable hard drive.

In this review, a few different portable hard drives were rounded up to be compared head to head. As you can see below we have three drives in this test; a Transcend StoreJet 1.8 (TS20GSJ18), a Kanguru Quicksilver (U2-HD2-20) and a ME-910 enclosure with a Fujitsu laptop drive. All three drives boast a 20GB capacity, and incorporate slightly different features and specifications into somewhat similar products.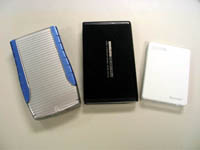 Transcend StoreJet 1.8:

Transcend is a Taiwanese manufacturer of video cards, flash drives, mobile storage devices, and a variety of other cool items... Many of which have found their way to the Bigbruin.com test bench. Although Transcend was founded in Taiwan in 1988, Transcend USA, the California based sponsor of the StoreJet 20GB review sample, was opened in 1990.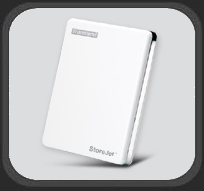 The Transcend StoreJet is different from the other two units (as you will see later) since it uses a Toshiba 1.8" hard drive, not the more common 2.5" laptop drive. Because of this, they have been able to make the unit considerably lighter and smaller, in fact the entire enclosure is about the size of a bare laptop hard drive. Overall dimensions are 95mm long by 71.5mm wide and 15mm high and a claimed weight of 118g. The Toshiba drive itself runs at 4200 rpm and is quoted to have a write speed of 16.4 MB/s, a read speed of 16.6 MB/s, and a seek time of 15ms.

Specifications (from the Transcend USA website):

• Dimensions : 95mm x 71.5mm x 15mm
• Power supply : DC 5V from USB port
• Operating Temperature : 5°C(41°F) to 60°C(140°F)
• LED Indicators : Always on:Power On Blinking:Data Access
• Weight : 118g/130g(20GB/40GB)

Features (from the Transcend USA website):

• Fully compatible with USB 2.0 specification
• Easy Plug and Play installation
• LED indicates Power On and Data Access
• High Transfer Rate: Up to 480M bits(60MB) per second at high speed
• StoreJet Software includes Exboot Express, PC Lock, Security HDD, My Documents, Mobile IE Favorites, Mobile Outlook Express and Address Book Editor.
• 2 year warranty

The StoreJet is sold in the descriptive retail packaging shown in the two images below.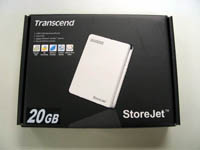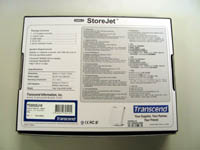 The drive comes with a USB cable, "leather" case, CD with drivers and utilities, and instruction booklet. They claim the case is leather on the box, but it really isn't. My first impression of the drive was quite good; it appears to be solidly made, attractively styled, and a great size for portability.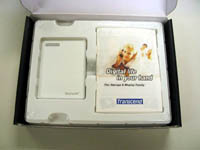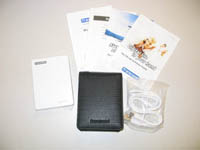 The image below shows an end view of the Transcend StoreJet, where the only connection needed is for connecting to USB... no external power connection is required.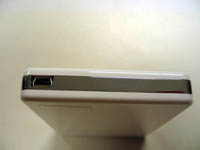 Please read on to the next page for more... Next

Page 1 | Page 2 | Page 3 | Page 4 | Page 5 | Home | Forum | Review Index | Page Views: