Maxtop Diamondback CSX-502 ATX Mid Tower Case - Page 1 of 5

Maxtop Technology Corporation was founded in 1996 and has been providing solid, reliable cases, with eye-catching and aesthetic designs to the customer ever since. They have accomplished this once again with the Diamondback CSX-502 ATX Mid Tower Case. Having access to the latest case designs through its partnerships with overseas factories provides customers with an ever expanding supply of choices. Choosing a case is only the first step of many when looking to build a cool looking and cool running system. ArrowMax, a California based Maxtop retailer, provided us with a sample of this case for review... let's see how it fared.


Features (as taken from the Maxtop website):

• 4+2+4 ATX Mid Tower
• Swing-up carrying handle w/dual-speed stealth fan
• Front USB and IEEE 1394 ports
• Side fan included
• Front Panel temperature indicator
• 400W power supply included

Specifications (as taken from the Maxtop website):

• Dimensions: 17"H x 8"W x 18.5"D
• Available color: Blue / Green / Silver / Orange

Packaging:

The CSX-502 came packaged in two rather dull looking cardboard boxes. The outside box was slightly larger than the box inside, this allowed for a double layer of protection against those potentially clumsy delivery men. Again, this wasn't very attractive, but it allowed the merchandise to arrive undamaged. To me this is the only thing that matters and doesn't detract anything from the case.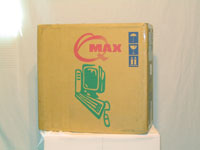 The inner box was sturdy and provided the case with its extra layer of protection. The box was sealed with thick red packaging tape to provide added security against unauthorized entry and to ensure the case was kept stable.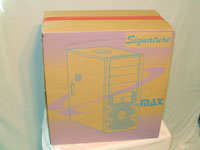 Inside, the case is held in place by two large pieces of Styrofoam, as well as being wrapped in plastic to further protect the case from any other issues that might arise during shipping.



Please read on to the next page for more... Next

Page 1 | Page 2 | Page 3 | Page 4 | Page 5 | Home | Forum | Review Index

Page Views: