Transcend JetFlash 110 512MB USB Flash Drive - Page 1 of 3

As we move into the future of computer technology, transportation of information still plays a vital role. Today this task is made easier with the use of flash drives. Transcend believes they bring you "Tomorrow's World, Today" and recently they sent over one of their latest products released to support this claim; the 512MB JetFlash 110 flash drive.

Company Profile (taken from the Transcend USA website):

"Transcend Information. Inc. was founded in 1988 by Mr. Peter Shu and has its headquarters in Taipei, Taiwan. Our extensive product portfolio has grown to include over 2,000 memory modules of every type, flash memory cards, USB pen drives, portable HDDs, multimedia products, graphics cards and accessories." They also go on to say, "Transcend has always been a customer driven company, we focus our efforts on providing the highest quality products with attentive after sales service and support, that ensures total customer satisfaction."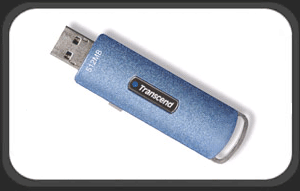 The JetFlash 110 came neatly packaged in a plastic clamshell. As with most clamshell packages, opening it proved to be impossible without a pair of scissors.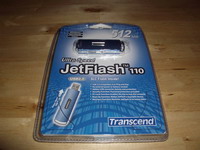 After cutting it open, I found the JetFlash 110 packaged with a neck strap, an extension cable, a miniature driver CD, and a set of labeling stickers.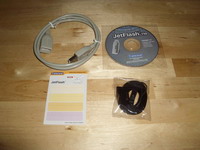 First Impression:

The first thing I noticed about the flash drive was its curb appeal, this little thing looks sharp. Seen in the picture below, the 512MB version comes with a blue, metal flake paint job that is highlighted with chrome trim.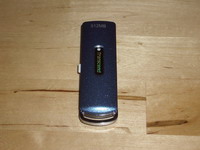 After getting my hands on it, the next thing I noticed was how light it was (11g). Aside from the good looks and light weight of the JetFlash 110, what I think really sets it apart from other drives is the switch blade USB plug. This allows for the USB plug to completely retract into the hard plastic case. As shown in the pictures below sliding the white button from one position to the other allows for the switch blade action.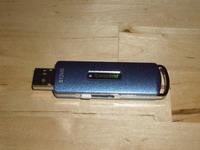 When fully extended the plug locks into place, although when fully retracted it doesn't lock tightly and has a loose feeling like it might slide out of its plastic sheath.

Please read on to the next page for more... Next

Page 1 | Page 2 | Page 3 | Home | Forum | Review Index | Page Views: