Hitachi Deskstar 7K500 500GB SATA-II Hard Drive - Page 4 of 4

Testing Results (continued):

Thermal Testing:

Thermal testing was carried out over the course of all the other benchmarks executed. An external thermal probe with LCD display was used to monitor the skin temperature of each drive. The probe was placed on the side of the drive, roughly at the center of the surface. The chart below details the maximum sustained temperatures achieved while the drives were powered on but inactive (Idle), and while the drives were under stress due to the testing (Active). Ambient conditions were maintained at 22C throughout the testing, and no cooling fans were directed onto the drives.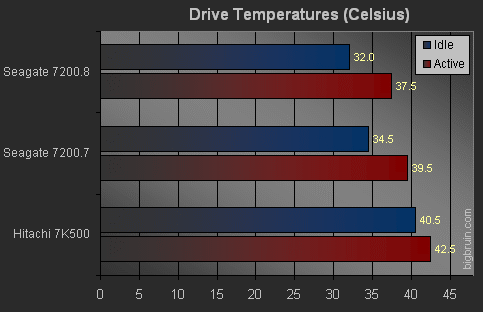 The Hitachi Deskstar 7K500 starts out much warmer than the two Seagate drives, and under activity it gets even warmer. The rise from Idle to Active conditions is less on the 7K500, but with such an elevated base temperature, that is of little comfort. The temperatures are not excessive, and could easily be dropped with even a mdoest cooling fan, but cooler electronics are generally happier electronics (longer life, more stable performance).

The Hitachi software allows for temperature monitoring, and once the testing was completed, I got into their application as quickly as possible. Perhaps one minute after the external probe reported 42.5 degrees Celsius, the software reported a temperature of 43 degrees Celsius. Their readings are from within the drive, and given the brief time it was allowed to cool off, this number seems to confirm the skin temperature readings.

Conclusion:

The Hitachi Deskstar 7K500 500GB SATA-II hard drive raises the bar for those who subscribe to the theory that bigger is better. When it comes to hard drives; more speed, more capacity, and more cache memory is always a good thing. This is the first drive to come across our test bench with SATA300 speed, and it provides the largest capacity (500GB) and most cache memory (16MB) that we have seen to date. Browse around... 500GB and 16MB are currently the best you will find in an internal hard drive, in these respective categories.

The performance in benchmarks was impressive. When used in SATA150 mode, the 7K500 managed to score better than the competition in just about every phase of testing. Enabling SATA300 mode ramped up the performance slightly in most tests, and the burst speed reported in HD Tach was quite impressive as it popped up to 223 MB/s! Overall, I was expecting higher scores across the board, but the testing turned into an educational experience for me, as I learned exactly what the test system and SATA300 could do for me.

The thermal testing showed that this drive runs a bit warmer than a few Seagate drives run through the same tests, but the results were not so high as to cause alarm. Proper cooling should be applied to all hard drives, and once a 120mm case fan was placed in front of all three drives, the Active temperatures settled into the mid 30 C range on all of them.

In addition to the heat, the noise from the drive was also analyzed (in a less than scientific manner). During periods when the drive was not active, it is quite quiet and makes less noise than the others used during testing. I actually checked it a few times to make sure the power cable had not become disconnected. Placing a hand on each drive shows that the Hitachi drive produces far less vibration, which will easily translate to less noise. When active the tables turn, and the chatter from the Hitachi drive is more noticable than from the two Seagate drives used. The Hitachi software does allow you to adjust the opertaion of the drive for lower noise levels, but this will impact performance.

The only knock other than the minor heat issue revolves around the warranty. At the beginning of the review I detailed how hard it was to determin how long this product is warranted, and the best guess was three years. Guessing isn't really acceptable, and this information should be made more clear. Three years is a decent warranty, but with Seagate offering five years, you can always hope for more.


The Hitachi Deskstar 7K500 500GB SATA-II hard drive is fairly new to the market, and as such, the availability is not the greatest just yet. A search of PriceGrabber does turn up a few locations with this drive in stock, with prices starting around $412 (US)! It may not be fair to compare prices condisering the size, speed, and new technology found in this drive, but its 82 cents per GB price is quite a bit higher than what you could expect to pay for a 'similar' SATA150 drive. As a point of reference, the 200GB 7200.8 Seagate drive used in testing comes with a price of 54 cents per GB.

Whether you need an incredible amount of storage for and expanding digital media collection, business applications, or games, the 7K500 should be able to handle your storage requirements for years to come. Couple the capacity with the SATA300 speeds and 16MB of cache memory, and you'll have to find something new to blame if one of those games should happen to lag!

Given the incredible capacity and performance, I award the Hitachi Deskstar 7K500 500GB SATA-II hard drive a final rating of 4.5 out of 5 stars... "Readily Recommended".

Final Rating (4.5 out of 5 stars):







Pros:

• Incredible capacity
• Fast in SATA150 mode, blazing fast in SATA300 mode
• 16 MB of cache memory provides a nice performance boost

Cons:

• Runs a bit warmer than other drives
• Does it have a three year warranty or not?
• Price and availability

Special thanks to Hitachi Global Storage Technologies for providing the Deskstar 7K500 500GB SATA-II hard drive to Bigbruin.com for review!

Please drop by the Bigbruin.com Forum and feel free to discuss this review.




Page 1 | Page 2 | Page 3 | Page 4 | Home | Forum | Review Index