Hitachi Deskstar 7K500 500GB SATA-II Hard Drive - Page 2 of 4

The Basics:

The review sample Hitachi 7K500 SATA-II hard drive was delivered in the retail packaging shown below. The outside of the packagaing details the bulk of the features and specifications, while the inside keeps the drive well protected with an ample quantity of bright red foam. In addition to the drive (sealed in an anti-static bag), the package includes a manual, a configuration CD, and a SATA data cable.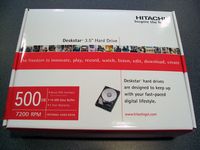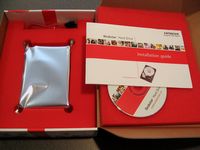 Physically, the 7K500 looks no different than your typical hard drive, although handling it reveals that it weighs a bit more than the other drives it will be tested against. The label on top of the drive provides the basics regarding some of the drive's specifications, but mostly contains details related to manufacturing that we wouldn't be interested in.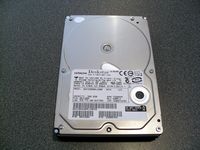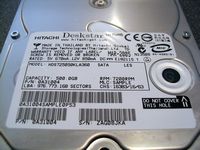 A look at the end of the drive shows that it features the typical SATA data connection and SATA power connection, but it also has a "legacy" 4-pin power connection. This is a nice touch, as some systems do not have a SATA power connection, and others just don't have enough of them. Being able to use the abundant 4-pin power connectors may make installation even more convenient for some. But heed the warning... just use one power connector, not both!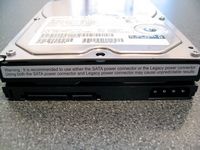 Flipping the drive over we get a good look at the PCB, which includes a Samsung brand memory chip that provides the 16MB of cache memory.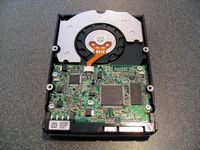 The software provided with the drive, and available online as a free download, allows for the drive to be configured and analyzed to the user's preference. It is with this software that the drive can be switched from SATA150 mode (the default configuration setup on the drive before shipping) to SATA300 mode which will be of most interest to us during testing.

Testing:

The Hitachi 7K500 will be run through a series of tests, and all of the results will be compared to a 200GB Seagate 7200.8 Barracuda and a 200GB Seagate 7200.7 Barracuda. The two Seagate drives are both SATA-150 units with 8MB cache memory, and the 7200.8 supports NCQ while the 7200.7 does not. The drives to be tested were all connected to a Promise Fastrak TX4300 SATA RAID controller, and the remainder of the test system consists of the following components:

• Intel Pentium 4 2.6C processor
• Abit IS7-G i865PE motherboard
• 1024MB PC4400 XL Corsair Dual Channel DDR Kit
• Ultra Products Xconnect 500W PSU
• Windows XP Professional SP2
• 2x 80GB Seagate 7200.7 Barracudas in RAID 1 hold operating system & benchmarks

Each of the following drive configurations will be analyzed in the series of tests listed in the next section:

• 500GB Hitachi 7K500 in SATA300 mode with NCQ enabled
• 500GB Hitachi 7K500 in SATA300 mode with NCQ disabled
• 500GB Hitachi 7K500 in SATA150 mode with NCQ enabled
• 500GB Hitachi 7K500 in SATA150 mode with NCQ disabled
• 200GB Seagate 7200.8 Barracuda with NCQ enabled
• 200GB Seagate 7200.8 Barracuda with NCQ disabled
• 200GB Seagate 7200.7 Barracuda with NCQ disabled (no NCQ support)

The following tests will be run on the drives configured as listed above:

• HD Tach 3.0.1.0 (Short Test)
• SiSoft Sandra 2005 (File System Benchmark)
• PC Wizard 2005 (Hard Disk Benchmark)
• Thermal testing

The first three tests listed above are synthetic benchmarks available in some form as a free download from the links provided. The thermal testing consists of monitoring the idle and active temperatures of the hard drives outer surface. All of the tests will be described in greater detail in the specific sections.

The operating system and benchmark applications were installed on a pair of 80GB Seagate 7200.7 Barracuda drives in a RAID 1 configuration. Each drive to be tested was formatted with one NTFS partition, defragmented before testing, and the system was rebooted after the execution of each benchmark.

Please read on to the next page for more... Next




Page 1 | Page 2 | Page 3 | Page 4 | Home | Forum | Review Index