Ultra Products ULT31310 & Vantec NST-355U2 Drive Enclosures - Page 1 of 6

The combination of lower hard drive prices and the popularity of high speed interfaces, such as USB 2.0 and Firewire, have made external hard drive enclosures desirable items. Whether for use as portable storage, as a means to back up critical files, or to expand the storage capacity of a computer, the convenience and flexibility make such enclosures appealing for a variety of practical applications.

The user's budget and storage requirements are really the only limiting factors as they select a hard drive to suit their needs. They can opt to buy a new high capacity drive, or give new life to an older internal drive that may not be the largest or fastest, but more than adequate for their needs as an external drive. Once a drive is selected, the enclosure to be used also deserves serious consideration. There are many manufacturers, styles, interfaces, and price ranges to choose from, and choosing one over another may be even harder than choosing the drive itself.

This review is going to take a look at two external hard drive enclosures in the same price range that offer many similar features. The Ultra Products Mini Portable Hard Drive Enclosure 3.5" (ULT31310) will be tested head-to-head with the Vantec 3.5" NexStar 2 USB2.0 External Enclosure (NST-355U2) using the same 200 GB Western Digital hard drive, and we'll see just how well each manufacturer approaches the same type of product.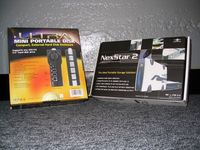 The image above shows the packages for the two drive enclosures to be reviewed. The ULT31310 shipped to us directly from Ultra Products, and the Vantec NST-355U2 that was provided for this review by Directron.

Ultra Products Mini Portable Hard Drive Enclosure 3.5" (ULT31310):

Ultra Products is a relative new comer to the computer peripherals scene, but they have jumped in with a wide variety of interesting products. Visiting their website shows they have products for serious business applications to colorful enthusiast systems, and in previous reviews we have looked at modding items, memory, a power supply, and an MP3 player from them. This time around Ultra has sent over the ULT31310 hard drive enclosure, depicted in the promotional image below.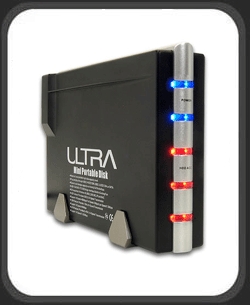 Before taking a look at the actual unit, let's take a look at some of the published features and specifications found on the Ultra Products website.

Features:

• Supports High Speed USB2.0 USB1.1 and Firewire
• Hot-Swappable - Plug-n-Play
• Compatible With 3.5" IDE Hard Drives
• Built-in Cooling Fan
• Easy Installation

Specifications:

• Interface: IDE to USB 2.0 and Firewire
• Supports: 3.5" ATA 133/100/66/33 Drives
• Max Capacity Supported: 300GB
• Dimensions: 190 x 125 x 45mm
• Weight: 240g
• Compatible OS:
&nbsp&nbsp&nbsp• Window 98SE / ME / 2000 / XP
&nbsp&nbsp&nbsp• Mac OS 8.6 & Above

Physical Features:

The Ultra Products ULT31310 ships in the colorful retail packaging shown below. Would be purchasers get a good look at the product itself thanks to a few 'actual size' images, as well as a list of many of the features and specifications.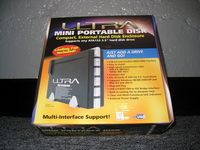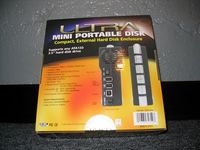 In addition to the drive enclosure, the items pictured below are also included. Shown in the below left image we have an AC power adaptor, and nice thick USB and Firewire cables. The below right image shows the user's guide, driver CD, and warranty registration card. The Driver CD is not required in Windows 2000 or Windows XP, so it was not necessary during this review.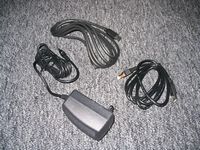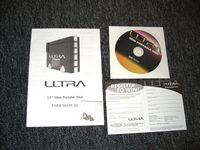 Please read on to the next page for more... Next

Page 1 | Page 2 | Page 3 | Page 4 | Page 5 | Page 6 | Home | Forum | Review Index

Page Views: