Evercool F117 Nighthawk VGA Cooler - Page 3 of 4

Installation (continued):

Here you can see the memory heat sinks, now attached to the VGA card, along with the F117 as it is fully secured.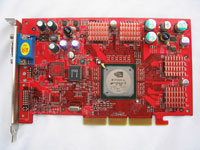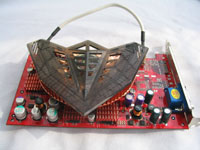 A few more views to show how the Nighthawk attaches to the board. Notice the large spacer holding up the back end of the F117. The spacers not only provide support for the unit, but in a dual usage design include slots for the bracket support screws. The screws enter through the backside of the board and secure the entire unit.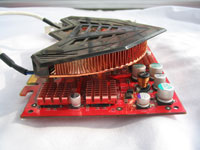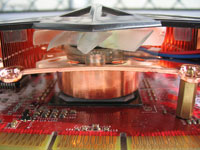 The images below attempt to show the Nighthawk cooler in action. The red LED fan creates a unique lighting effect as it shines through the heatsink.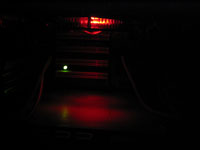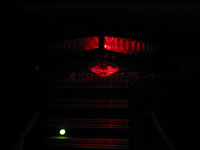 Testing:

The test system used for this review consists of the following:

• AMD Athlon XP2400+ @ 2.0GHz
• Asus A7N8X Deluxe motherboard
• 1GB Kingston HyperX PC3200 Memory
• Maxtor 160GB Hard disk
• 2x Optical Devices (CDRW/DVD)
• GeForce 4 Ti 4200 Graphics card
• Scythe Kamakaze Heat sink

To take the temperatures I used an ExTech digital thermometer (model 421914). I placed the sensor on the back side of the GPU, this will not provide us with completely accurate temperatures but should provide you with a general idea of the F117's cooling power. For overclocking I used RivaTuner and 3dmark 2001 SE to record the results. The room was kept at a constant temperature of 21 degrees Celsius, with the ambient case temperature resting at 24 degrees Celsius.

I started off running 3dmark 2001 on my stock VGA settings which were 250MHz core clock speed and 513 MHz memory clock speed. The score that I got from 3dmark is shown in the below right image. This was lower than I had expected to get so I ran it again and received the same score, so lets see what we can boost it.

The process I used was to increase each speed by 10MHz at a time and then test the stability with 3dmark> Rather than go into every result, we'll go right to the end. I continued to increase the MHz until I received a lower score than the previous test, all while monitoring the temperatures of the GPU and RAM memory. I found that my best results were with a setting of 290MHz core clock speed and 563MHz memory clock speed. After this occurred I bumped the clock speed up even further to 300MHz core and 573MHz memory clock speed, at this time I received a score nearly 200 points below the previous score. I repeated the test to ensure accuracy and it was correct, this was the limit. Both before and after scores are shown below, with the higher score obviously recorded after the clock speeds were raised.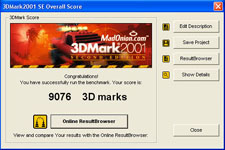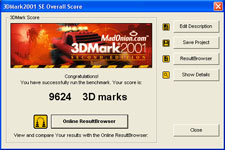 As another means of testing the score that 3dMark gave me, I used Counter Strike Source to further push the cooler to its limit and beyond. Although I was able to push the core clock speed to 290mhz and the memory clock speed to 563MHz, a full 40MHz above stock, I was unable to play CSS. The F117 could not provide the necessary heat dissipation needed to cool the GPU enough to allow continued game play. Artifacts or flaws in a rendered image became present at this level and were a sure sign the VGA card is becoming overheated. To continue playing I had to reduce the core clock speed to 275MHz and the memory clock speed to 538MHz, only 25MHz above stock. Again this is completely above what I would have expected out of this unit. It wasnt designed for use in overclocking, and anything above normal loads is to be considered exceeding expectations.

Please read on to the next page for more... Next

Page 1 | Page 2 | Page 3 | Page 4 | Home | Forum | Review Index