E-Power Technology Silent Engine Tiger 550W PSU - Page 1 of 5

Today's computers have become extremely power hungry. Because of things like high powered video cards, multiple hard drives, dual processors, and a whole list of available peripherals, never has the need for a rock solid power supply been greater. Using a cheap or under-rated power supply is a sure fire way to create random computer problems and severely handicap any efforts at overclocking your computer.


Enter E-Power Technology with their new Silent Engine Tiger 550 watt power supply. E-Power Technology may be an unfamiliar name to many of you, but they have been supplying power supplies, computer cases, and accessories since 1990. Their headquarters are in the City of Industry, California and as stated on their website:

"The company has grown from a small supplier of PC power supply into a diversified manufacturer of high technology products including PC gaming, server, workstation and industrial power supply. E-Power Technology products are currently used in a variety of professional and consumers markets including industrial server, PC gamer and general computing applications."

E-Power Technology has been kind enough to supply us with a sample of the new Silent Engine Tiger 550 power supply so let's take a closer look at it and see just how it stacks up.

Packaging:

The Silent Engine Tiger 550 came well packed from E-Power Technology in a box packed with shipping peanuts and then a very sturdy plain white box that had a cardboard sleeve over it with the retail type advertising on it.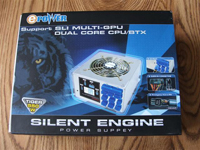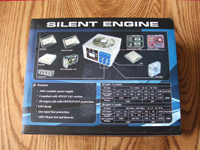 Inside the white box the power supply was nicely packed in an envelope like piece of bubble wrap that fit the power supply like a glove. Here you will find the power supply, all the power leads, an A/C power cord, four black tie wraps and an instruction manual.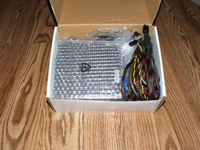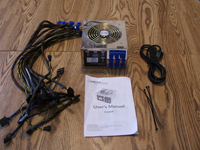 Please read on to the next page for more... Next




Page 1 | Page 2 | Page 3 | Page 4 | Page 5 | Home | Forum | Content Index

Page Views: 13634