Sunbeam Tech Transformer Case - Page 3 of 3

Installation:

Time to get a system moved into this case. The first thing I did was try out the tool-less drive rails. They work as well as my first impressions hope they would. Installation was a breeze for the hard drive shown below, as well as a 5.25" drive in one of the exposed bays.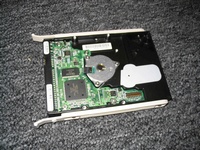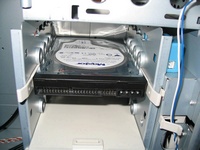 The system installation is nearly complete in the images below, and although everything well for the most part, some issues became apparent. One issue I could see is with motherboards where the IDE connections are mounted on their sides at the edge of the motherboard. I am not a big fan of that arrangement, but with one of those boards in this case, there could be interference between the ribbons and the internal hard drive bay. It is a little tight.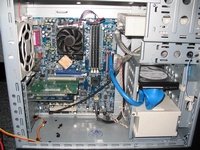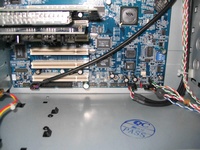 Another issue can be seen in the above right image. The USB cable could be a little longer, as I lose at least two PCI slots by trying to use the USB header on this motherboard. Sure, most headers are closer to the front panel connections, but 6 to 8 inches more would be nice.

The final issue I have is that the installation of drives into any of the exposed bays means the removal of the front face. Not a big deal as it just pops on and off, but it is not as convenient as it could be. Plus, once you wire the CCFL to the front face, you can't remove the front face too far.

The image below shows a few cards being held in place by the tool-less device. Once the device is clicked into place, the cards are held securely in place, but getting everything set is a little tricky. For example, while trying to install the sound card in the third slot down, the CCFL's PCI slot switch just fell down to the bottom of the case. The concept of having one latch for all cards seems convenient, but it can make managing the installation of multiple items, especially ones that don't attach to the motherboard, a bit tricky.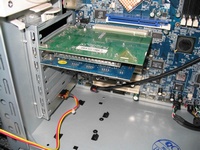 With everything installed, it was time to fire this monster up to enjoy the light show. The first image in this series shows the case in well lit conditions.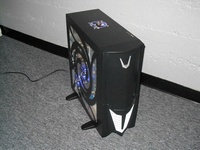 The next two images show the case in low light, and then in no light. The lighting effects are cool! The green and blue lights are fairly bright, but give off a cool, mellow vibe. But, the sounds of the fans is nothing but mellow. I would highly recommend investing in a fan controller, as the three 80mm fans and one 120mm in this case make some significant noise at full speed. They are definitely moving a decent amount of air, but knocking the speed down a little would knock the noise down to a more acceptable level, while still moving a good amount of air.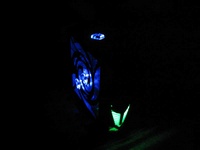 Conclusion:

The Sunbeam Tech Transformer Case is quite appealing, and is something of a hybrid case. It has the enormous size, strength, and room for drives like a server, but has the edgy styling, lighting effects, and tool-less installation features of a gaming case. Could it be the offspring of a server and a LAN rig?

Just about everything in the case is tool-less, including the drives, expansion slots, fans, and side panels, making the installation super easy. Other convenient features include the top mounted USB 2.0 and audio ports, as well as the four pre-installed fans.

Installing a system into this case was quite simple, but I did identify a few potential issues. The USB lead was a bit short, installing drives in the exposed bays requires the removal of the front face, and motherboards with on-edge IDE connections may run into some interference between their IDE ribbons and the internal hard drive bay.

Other than these few potential issues, the only other negative is that the fans are a bit loud. This problem is easily remedied with a fan controller, which Sunbeam Tech also manufacturers, and which should be featured on BigBruin.Com some time soon.

Searching the internet did not return to many results for locations to buy this case, but it is new, and that should change. One place presently offering the Sunbeam Tech Transformer is NCIX, with a price of $92 (US), as of the date this review was published.

Final Rating (4 out of 5 stars):





Pros:

• Huge and stylish... The offspring of a server and a LAN rig?!?
• Tons of drive bays... (5) exposed 5.25", (2) exposed 3.5", and (6) internal 3.5"
• Tool-less drive rails are the best I have used
• Just about tool-less everything... drives, expansion slots, fans, and side panels
• Designed for 120mm fans
• Includes (1) 120mm fan and (3) 80mm LED fans with stylish grills
• Conveniently located audio and USB 2.0 ports
• Well documented

Cons:

• Fans are loud, but do move a good amount of air
• USB lead could be longer
• Installing drives into exposed bays means removing the front face completely
• Motherboards with on-edge IDE connections may not fit well

Special thanks to Sunbeamtech for providing the Transformer Case to BigBruin.Com for review!

Please drop by the BigBruin.Com Forum and feel free to discuss this review.

Page 1 | Page 2 | Page 3 | Home | Forum | Review Index