Sunbeam Tech Transformer Case - Page 1 of 3

These days it seems that just about every manufacturer wants to try their hand at pre-modified cases. From the subdued to the over the top, there are so many different cases available that no one can really complain about a lack of selection. Sunbeam Tech has just released a few new cases to feature some of their other modification products, and to highlight their style of case design. The Sunbeam Tech Transformer Case is one of these new cases, and is the subject of this review.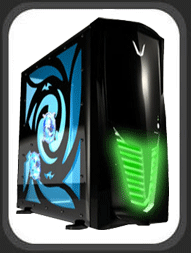 Features:

• ATX Form Factor 12" x 10.5" Or smaller
• Screwless kits in 5.25" and 3.5" included
• Tool-less kits in back slots included
• Front USB 2.0 version and audio port included
• Thumb screws for easy assembly
• Electronmagnetically shield
• Universal ATX I/O shield
• Support any Standard P4/AMD power supply
• Two 80mm LED case fan in side window included
• One 80mm LED case fan in top included
• One 120mm case fan in rear included
• Three 80mm shiny fan grill included
• One 10cm green cold cathode light included

Specifications:

• Housing Material: 0.8MM SECC Steel Metal
• Main Board Size: ATX Form Factor 12" x 10.5" Or Smaller
• Input Voltage: 115/230 VAC
• Mounting Kits, Hard Drive & Power LEDs: Included
• External Disk Drive Bays: 5 x 5.25" and 2 x 3.5"
• Internal (Hidden) Disk Drive Bays: 6 x 3.5"
• Case Dimension (L x W x H): 450mm x 205mm x 522mm
• Power Supply: No Power Supply Included
• Front USB & Audio: 2 x USB / Spk & Mic
• Ventilation: Three 80mm and Two 120mm Case Fans Installed & Included

Specifications and features compiled from the Sunbeam Tech and NCIX websites.

The Basics:

The case ships in the massive brown box shown in the below left image, which is protecting the slightly smaller retail style box shown in the below right image. Not shown, but another box was also shipped containing the case's front cover. The retail style box was large enough, and has a cut out for the face to be included, but perhaps the logistics of this being a new product forced the review samples to be shipped separately.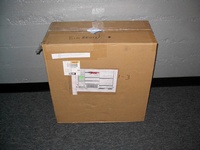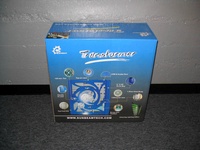 Inside the boxes, the case is protected by the typical Styrofoam frame, as well as two sheets of Styrofoam that protect the side panels of the case. A nice touch to add an extra level of protection, especially for a case with a window.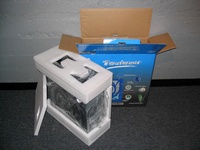 With the case fully removed from its packaging materials, the first thing noticed was that this case is huge. It definitely is not your typical mid-tower ATX gamer's case, as it is the same height, width, and only 1 inch less deep than my largest case, the Enermax CS-10182-BA Server Tower Chassis! So this is what it would look like if a server mated with a LAN rig!?!

Once the size had been fully appreciated, I started noticing other features of the case, which were just as impressive. As shown in the images below, the fairly heavy-duty black steel case features an intricate window that covers just about the entire side panel. The front face features a solid door to cover drive bays, and below this is a removable grill that is obviously where the product derives its name. The grill is quite reminiscent of a Transformer, but is it an Autobot or a Decepticon?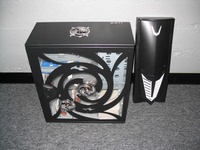 The grill is finished in white, which looks nice against the black case, but the small chevron type mark at the top of the door is silver. I think it would look better if both features were colored the same, preferably silver. With the face's door opened, it reveals the most exposed 5.25" drive bays I have ever had on an ATX case. There are five exposed 5.25" bays and two 3.5" bays, so there should be plenty of room for drives.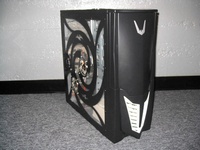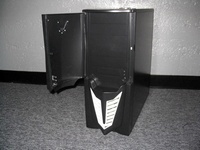 As I mentioned previously, the Transformer grill is removable, and can be seen popped out in the below left image. I am unsure of what the exact point is of having it be removable, as it is just a bit too small of an opening to remove the 120mm fan housing seen behind it. The below right image shows the front face removed all together, revealing the steel frame and white plastic mount for a 120mm fan.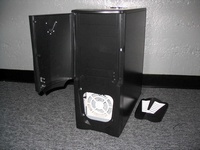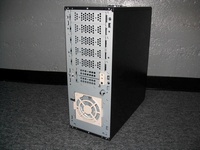 The below left image shows the plastic fan mount removed from the case's frame, which is easily done by squeezing the tabs on either side, and pulling away from the case. A 120mm can be held securely in place in the mounting device using just the two pegs in opposite corners, or two screws can be used in the corners without pegs. A wide open honeycomb style perforation can be seen behind the fan mount, which will allow for excellent air flow into the case.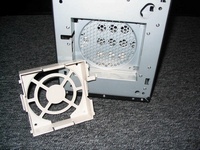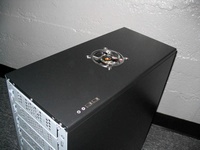 The above right image shows the top of the case, which features flush mounted headphone and microphone jacks, as well as two USB 2.0 connections in the front corner. At the center of the top is an 80mm clear LED exhaust fan, with the popular "Blade" style fan grill.

Please read on to the next page for more... Next

Page 1 | Page 2 | Page 3 | Home | Forum | Review Index | Page Views: