FoxConn 865M01-G-6LS mATX Motherboard - Page 1 of 7

FoxConn may not be a name that people think of when shopping for a new motherboard, and the company is looking to change this. As a registered trade name of the Hon Hai Precision Industry Co., Ltd., FoxConn is part of the world's largest manufacturer of PC connectors, as well as a leading manufacturers of cable assemblies, desktop PC chassis, and server enclosures. In addition to providing the AGP, PCI, and backplane connections on motherboards of various brands in my posession, they are the company behind the unique CasEdge Diabolic Minotaur case.

A quick look at FoxConn 's website reveals that they are hitting the retail motherboard market at full speed with several offerings for use on AMD's K7 and K8 platforms, as well as an equal number of offerings for the Intel Pentium 4. The motherboard being scrutinized in this review is FoxConn model number 865M01-G-6LS, a micro ATX form factor board based on the Intel 865G northbridge / ICH5 southbridge designed for use with Intel Pentium 4 processors.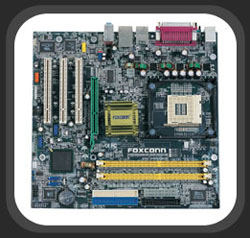 Specifications & Features (as taken from the FoxConn website):

• CPU: Socket 478 for Intel® Pentium® 4 processors
• Front Side Bus (FSB): 800/533/400 MHz
• Chipset: Intel 865G (GMCH) + Intel® ICH5
• Memory: Dual channel, 4 x 184-pin DIMM sockets; up to 4GB DDR400 (PC3200), DDR333 (PC2700), and DDR266 (PC2100) SDRAM
• VGA: Integrated Intel Extreme Graphics 2; 266MHz core; up to 64MB shared system RAM
• Expansion Slots: 1 x AGP 8X (AGP 3.0); 3 x PCI (PCI 2.3)
• IDE: Dual channel UltraDMA 100/66/33; supports up to 4 devices
• Serial ATA (SATA): Dual SATA/150; supports up to 2 devices
• Audio: Integrated Realtek ALC655, 5.1 channel (AC97 2.3); S/PDIF-out interface (header)
• LAN: Integrated Realtek 8101L, 10/100 Mbps
• Rear Panel I/O Ports: 1 x VGA port, 1 x PS/2 keyboard, 1 x PS/2 mouse, 1 x RJ45 (LAN), 4 x USB 2.0, 1 x line-in, line-out, and mic (audio), 1 x parallel, 1 x COM1
• Internal I/O Connectors: 2 x USB 2.0 headers; support 4 ports, S/PDIF-out connector
• BIOS: 4Mb flash ROM, Award BIOS, PnP, DMI 2.0, WfM 2.0, SM BIOS 2.3, ACPI
• Standards/Manageability: PCI 2.3, USB 2.0; WfM 2.0, DMI 2.0, WOL by PME, WOR by PME
• Special Features: Wake on ring, LAN, USB, keyboard & mouse, Support for Smart Card reader (header), STD (Suspend-to-Disk); STR (Suspend-to-RAM)
• FoxConn Super Utilities: SuperStep, SuperRecovery, SuperBoot, SuperBIOS-Protect, SuperSpeed, SuperLogo, and SuperUpdate
• Accessories: Support CD; user's manual; cable set -1 x UltraDMA 100/66/33, 2 x SATA, 1 x FDD
• Form Factor: microATX, 9.6" x 9.1"

From reading the list above, it is clear that this mATX offering isn't lacking in features. The 865m01-G-6ls supports the current top end 800 MHz front side bus Intel processors and DDR400 memory, as well as being backward compatible with previous generations for flexibility as an upgrade solution to an older system. Onboard 'extras' such as 10/100 LAN, 5.1 channel stereo sound, Intel Extreme Graphics 2, (4) USB 2.0 ports, and (2) Serial ATA connections help reduce the need for expansion cards, as the microATX form factor limits it to offering 3 PCI slots and one 8x AGP slot.

One item conspicuous by its absence from the list above is Firewire. Although the motherboard PCB is silkscreened to identify the location of a Firewire header, one is not provided. A separate board is available from FoxConn, the 865M01-G-6ELS, which appears to be identical to the 865M01-G-6LS, with the single addition of Firewire support. I am not sure why you would opt to not have Firewire, and it seems like a common enough feature to include, eliminating the need for two models with such a slight difference.

Rather than regurgitate all the details of the Intel 865G chipset, I offer this link which covers the basic architecture, key features, and benefits of this particular chipset... Official Intel 865G Chipset Page. In addition, the following link provides similar details on Intel's Extreme Graphics 2... Official Intel Extreme Graphics 2 Page.

The Basics:

The board is sold in the box pictured in the below left image, which mistakenly identifies it as supporting IEE1394 (Firewire), and I assume the box is just shared between products. The back of the box details all of the "Super" utilities detailed in the list of features above. The below right image details the bundle of items included with the motherboard, and from left to right include; Serial ATA data cable, Serial ATA power adaptor, floppy ribbon, IDE ribbon, driver/utility CD, custom ATX backplate, and the user manual. Once again a buyer may be confused about the existence of Firewire, this time due to a punchout available and labeled for it on the ATX backplate that goes unfilled. The manual seems well written, and at 103 pages long is quite thorough, always a nice thing to have for something like a motherboard.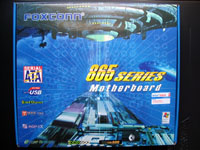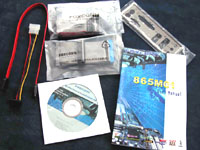 The image below offers the first good look at the 865M01-G-6LS, and in subsequent images closer looks will be provided for some of the key components found onboard. I haven't seen any micro ATX cases with window modifications, but if they exist, this board would be worth displaying with the striking blue PCB, vibrantly colored connectors, and metallic green northbridge heatsink. In addition to the style, the design is impressive, as all of the key internal connections (such as IDE, power, floppy, S-ATA, CPU socket, etc. are located near the edge of the board making setup simple.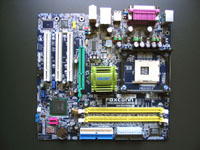 Please read on to the next page for more... Next

Page 1 | Page 2 | Page 3 | Page 4 | Page 5 | Page 6 | Page 7

Home | Forum | Review Index | Page Views: