G. Skill F1-4800DSU2-1GBFR PC4800 1GB Dual Channel Kit - Page 1 of 3

When we think of high speed memory, TCCD is usually the first that comes to mind. TCCD is generally known for high speeds and high overclocks even at low voltages. G. Skill, one of the leaders in memory, has developed a new memory module that utilizes these TCCD chips. The new product is a PC4800 1GB Dual Channel Kit, model F1-4800DSU2-1GBFR, which guarantees speeds of 300MHz (DDR600) at timings of 2.5-4-4-8 2T.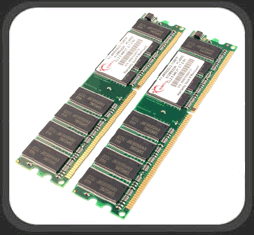 Company Profile (taken from the G. Skill website):

"G. Skill, established in 1989 by enthusiasts, is a leading memory Module Manufacturer based in Taipei, Taiwan. We are here to provide superior memory products and satisfactory services in order to keep pace with our customers' growing needs, and help our customers in adding value to their products. And we pledge we will continue to do so and enable both sides to obtain significant competitive advantages in the market segments."

First Impression:

The 1GB kit arrived in an average plastic clamshell; these clamshells never seem to hold the memory modules in the intended place. As you can see from the photo on the right, one of the modules slid around while shipping.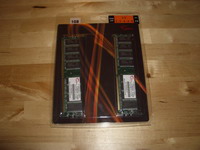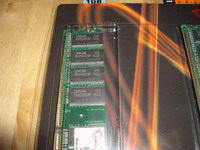 On the back of the package we see a small set of instructions for handling the modules and some warranty information.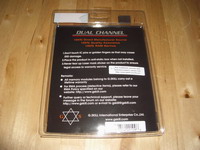 Now let's take a look at the memory sticks themselves. One of the first things you will notice is there are no heat spreaders on this set of memory. You can also see that this is indeed Samsung TCCD. The serial numbers on these particular chips are Samsung 440, K4H560838F-TCCD. Lastly we see the G. Skill specifications sticker showing PC 4800 2.5-4-4-8 2T.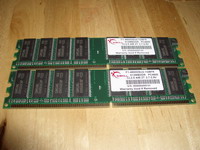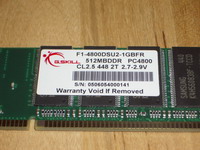 Specifications (taken from the G. Skill website):

• Model Name : F1-4800DSU2-1GBFR DDR600 2T
• Package: 1024MB kit (2x512MB) dual channel pack
• IC Spec: Samsung TCCD
• CAS Latency: 2.5-4-4-8 (PC4800)
• Test Voltage: 2.7~2.9 V
• PCB Board: 6 Layers PCB
• Speed: DDR 600 MHz (PC4800)
• Type: 184-pin DDR SDRAM
• Error Checking: Non-ECC
• Registered/Unbuffered: Unbuffered
• Quality Control: Comprehensive rigorously tested in pair at dual channel environment
• Warranty: Lifetime

Please read on to the next page for more... Next




Page 1 | Page 2 | Page 3 | Home | Forum | Review Index | Page Views:
Bruin Tracks
» Up to 35% off at Monoprice.com

» Shell Shocker Deals at Newegg.com

» eBay
- Shop Victoriously!