X-Ray Technology X-Ray Pads - Page 1 of 3

With the fast paced, ever changing world of pc gaming today, the serious gamer realizes the necessity for high quality mouse pads. Recently X-Ray Technology LTD sent over a selection of their X-Ray Pads including the Thunder 8, Thunder 9 smooth, Thunder 9 rough, and Aqua 3, as well as a set of their Zero Friction Teflon mouseskates. In this review we will see if they meet not only the demands of gaming, but also the everyday use of the average computer user.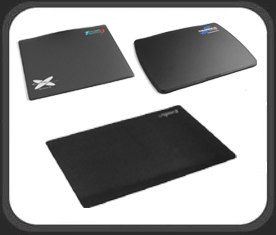 Company Profile (taken from www.xraypad.com):

X-Ray Technology LTD was founded in 2003 and specializes in developing and manufacturing excellent mouse pads and accessories for the professional computer user. We've acquired plenty of experience with experimentation, management, and quality control. Sincerity, warmth, honesty, renovation, and high efficiency are our principals, and we believe firmly in offering better quality products and brand names you can trust.

The Pads:

Let's start with shipping and packaging. As you can see below the pads came in a large white padded envelope. Upon opening the package I found four neatly packaged mouse pads with no damage from shipping.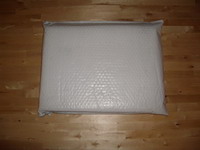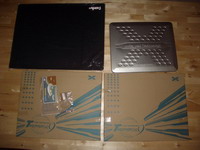 The Thunder 8 came packaged in a special tin case that not only looks good, but also allows for transport without damage to the pad itself (left). Both of the Thunder 9's came in cloth mesh carrying cases, which should provide adequate protection for any transportation needs (right).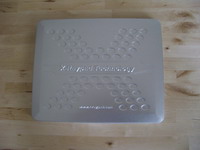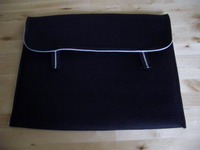 The Aqua 3 did not have any special carrying case. This is most likely due to its size and flexibility.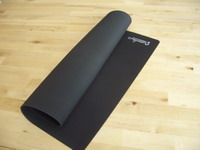 Next let's take a look at the individual mouse pads, starting with the specifications of the Thunder 8 as shown on the X-ray pads website.

• ABS Base – Super Slim, Durable, Washable, Excellent Chemical Resistance
• Surface – Double-sided Surface made of special Hi-Tech material
• Easy Lift Corner – Change easily between two sides
• Enhanced cord clip – Easy-in and Easy-out design
• Rubber feet - High quality silicone rubber feet will not slide
• Tin Package - Deluxe Tin Packaging to protect your pad
• Dimensions – 11.44" x 9.3" x 1/16" (290.6mm x 236.2mm x 4.2mm)
• 5 Colors & Custom designs available

The Thunder 8 is the smallest of the four pads, although slightly larger than a standard mouse pad (lower left). The size of this mouse pad is perfect for my desk; the other pads required some rearranging to make them fit. The thunder 8 also has the most built in features of the group. First of all the pad has a reversible insert that allows for a smooth or rough mouse surface (lower right). I did not use this feature as it seemed to be intended, once I found a texture that I preferred I tended to stick with it rather than changing texture for game play or normal use.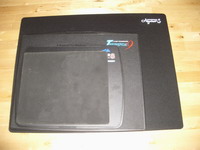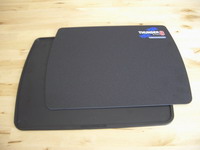 Please read on to the next page for more... Next

Page 1 | Page 2 | Page 3 | Home | Forum | Review Index | Page Views: