Sunbeamtech Chromatic Windmill Control Panel - Page 1 of 3

With the release of each generation of new hardware there comes new issues with cooling. In order to keep our computers cool we add fans, and each fan we add tends to increase the noise level. This is a vicious cycle. To help lower the noise, and keep your computer cool, there are many fan controllers on the market that attempt to achieve the perfect balance between noise level and cooling ability. Today, I will be looking at a new device by Sunbeamtech, the Chromatic Windmill, a full function fan controller capable of controlling up to seven fans and monitoring three different temperature probes!


Specifications (taken from the Sunbeamtech website):

Calendar:
• Display in year, month, date and time.
• Set for the years from 2002 to 2009, time shown in 12-hour format

Temperature Watch Guards:
• Three sets of temperature sensors
• Overheat Alarm (default at 65c) with sound alert.
• Able to set up your own alarming temperature.
• Overheat indicator: any of the sensors reaching alarming temperature will set off Overheat Alarm, indicating the overheating device by flashing relative symbol with a sound alert.

Fan Controller:
• Takes care of 7 fans at the same time
• Fan speed sensor
• Error indicator: sound alert and flashing signal
• Fan status illustration
• Fan speed controller

Hard Disk Indicator
• Flashing HDD signal for hard disk reading/writing.

EMI Shielded Wires

Specifications:
• Color: Silver or Black
• Maximum Power Consumption: 10W per channel (70W total)
• Part Number: Silver - CW-SV, Black - CW-BK
• Fans Controlled: 7
• Temperature Sensors: 3
• Sensor Temperature Range: 25 - 80 Celsius degree
• DC Input: 12 v / 5 v
• Output Voltage: 6V - 12V

The Basics:

The Chromatic Windmill is packed in a vibrant retail box that gives you a great deal of information about the unit. The back of the box gives you a brief overview of its features.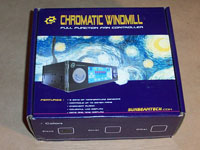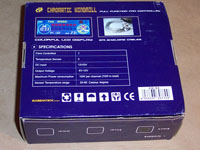 Opening the box you will find the Chromatic Windmill is packed between two fitted foam blocks that help keep it stable, and absorb any shocks from shipment. To help keep it looking nice, they have also placed the unit in a plastic bag. All of the accessories are wrapped in a separate bag placed in the back of the box.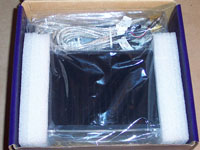 Please read on to the next page for more... Next

Page 1 | Page 2 | Page 3 | Home | Forum | Review Index

Page Views: 33031