Sunbeamtech Wherever PCI Rack - Page 2 of 2

The small thin box the Wherever PCI Bracket comes packaged in shows some suggestions for different devices and layouts that the assembly could be used for. Some of those uses include, water cooling reservoir or radiator mounting, fan less PCI card fan mounting (fan mounted in front of card not over the top like in the pictures above), and hard drive mounting. I wanted to see just how sturdy the assembly would hold a full size hard drive. I figured now was the best time to isolate hard drive vibrations and installed the included rubber grommets.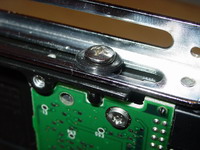 I was most impressed with the rigid mounting of a hard drive in this fashion. It will move toward the motherboard and toward the side cover a bit, but up and down movement was not going to happen. The picture on the left shows the hard drive mounted. The picture on the right is a bit confusing, but shows the relationship between the PCI slots and the mount. The picture was taken with the camera on the backside of the hard drive.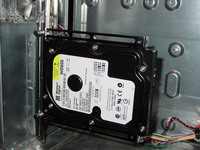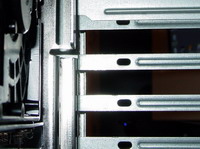 I also wanted to see the limits of what could be mounted on the Wherever PCI Rack and couldn't find anything of extreme weight that I would actually mount in a PC case. Instead I had a big Enermax 120mm fan waiting for a project and was thinking this would make a great side panel fan. The idea here is to have a side mounted 120mm fan that wasn't mounted to the actual side panel. Cut a 120mm hole in the side case and not have to worry about the fan coming with the panel. The Wherever PCI rack is capable of holding just about anything you would need mounted.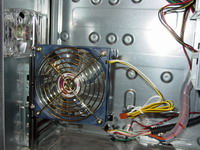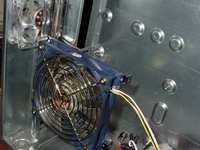 Conclusion:

The Sunbeamtech Wherever PCI Rack is strong, capable, and worth every bit of money laid out for it, if you need it. The chrome plating makes it look good and the bracket is plenty thick enough to prevent any and all flex. Only people who really need something like this bracket would probably consider buying it. It doesn't add flash, it doesn't add 25 points to your benchmarks, but it will do what no other product does. The threading of the holes is a concern, but with a 3mm tap, that problem can be fixed. Keep in mind, if you have a tool-less case, you may find yourself losing a lot of the tool-less features if you want to use this solution.

The Wherever PCI Rack sells for around $15 (US), and just about the best price on it, and other Sunbeamtech items, is at Jab-tech where it sells for $12.99.

Even with the problem with threading, I give the Wherever PCI Rack a 4.5 out of 5 stars.

Final Rating (4.5 out of 5 stars):







Pros:

• Nothing like it
• Very strong
• Chrome plating

Cons:

• Hole threading

Special thanks to Sunbeamtech for providing the Wherever PCI Rack to BigBruin.com for review!

Please drop by the BigBruin.Com Forum and feel free to discuss this review.

Page 1 | Page 2 | Home | Forum | Review Index