Sunbeamtech Wherever PCI Rack - Page 1 of 2

Once again Sunbeamtech has produced a device that is different than any other product. It's not just different, it's a completely new device that could change the layout of your modded case. It won't keep your processor cooler, but it can help. It won't cool your video card, but it can help keep it cooler than ever. You need more storage room? This could be your only answer. I'm talking about Sunbeamtech's Wherever PCI Rack.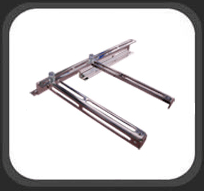 The Wherever PCI Rack is kind of hard to describe. It is meant to be mounted to the same screw holes that PCI cards are mounted to. Beyond that, it is up to the individual users imagination to mount other devices to the Rack. The Rack comes in a simple box and includes very few parts. A small bag with 4 rubber grommets rounds out the sparse accessories.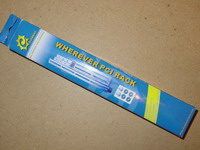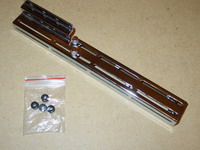 Stored underneath the main bracket are two "L" shaped rails that are secured by two extra tall thumbscrews. The rubber grommets are meant to be fitted inside the rails and provide a bit of noise isolation.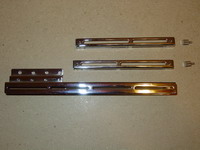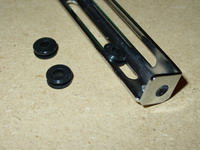 I ran into one problem while getting familiar with the Rack. The screw holes are not threaded very well. I could barely get the included thumbscrews started into all but the holes that they were initially installed in. Lucky for me I have a 3mm tap and made quick work of chasing the threads. As a side note, 3mm is the standard size for coarse thread computer screws so you can use regular screws if the 2 thumbscrews are not enough.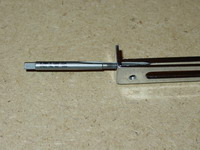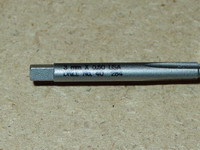 Now that the threaded holes were all cleaned up it was time to mount some stuff. First off I wanted to try mounting a fan over the video card area to provide some additional cooling. I mounted one of Sunbeamtech's own 80mm blue LED fans to the rack first.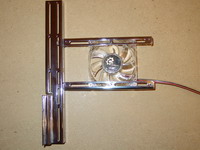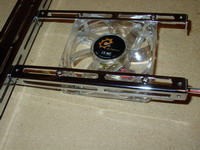 Now comes problem number two. My normal test system uses the previously reviewed Sunbeamtech Samurai case (reviewed here). Due to the fact that the Samurai case is a tool-less design and uses clips to hold PCI cards in, there was no way to mount the bracket. If all the clips are removed from the case, the bracket could be mounted, but that seems unnecessary. I decided to use a more run of the mill empty case I had lying around to test the Wherever PCI Rack. The picture below and left show the bracket mounted in the case with the 80mm Sunbeamtech fan in about the right position to more then adequately cool a video card. Unfortunately the right side picture also shows how a rear 80mm fan can be partially blocked by the upper part of the bracket.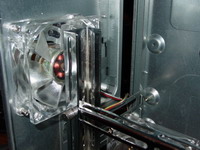 Please read on to the next page for more... Next

Page 1 | Page 2 | Home | Forum | Review Index | Page Views: