Ultra Products 1024MB PC3200 XL Dual Channel DDR - Page 1 of 3

Ultra Products is a global, technology-solutions provider headquartered in Fletcher, Ohio. The company offers a wide range of solutions, products, and services to resellers and end users worldwide. Ultra's expansive product line provides business partners with the timesaving convenience of one-stop-shopping, along with quality products at exceptional price points.

Ultra Products has sent over one of their finest, a PC3200 Dual Channel 1 gig kit (2 x 512 modules) and we get to take a look at it. The model number, ULT31720 is one of Ultra's top of the line offerings and comes in an incredible Mahogany wood box.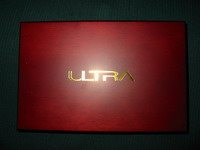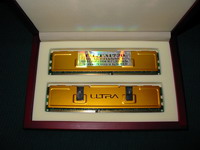 Ultra makes some pretty large claims when talking about these overclocking memory modules.

"Extreme High Performance PC3200 Memory Delivers Extreme Low Latency No Matter What!!

An overclocker's dream come true! Extreme Performance memory from Ultra that performs with incomparable, uncompromising reliability no matter how much you tweak your system. Featuring PC3200 extreme bandwidth, extreme low latency at 400MHz and an innovative high-performance aluminum heat spreader to reduce thermal buildup. Ultra's XL memory offer the most consistent low latency in the industry - latency that will not rise regardless of how much extreme power your system generates. Overclock in complete confidence with Ultra's incredible XL memory."

Specifications:

• Memory Size: 1024MB (2x512MB)
• Memory Speed: 400MHz PC3200
• Memory Type: Dual Channel XL

The Ultra Products website also shows what latency to expect at different speeds:




We are going to see if these claims hold true and find the limit of speed as well as compare bandwidth to a couple of closely matched dual channel sticks from other manufacturers.

First Impressions:

Before we warm them up, let's check them out. The first thing to catch your eye will most definitely be the way these sticks get packaged. A finely finished Mahogany box complete with anti-static foam cutouts to house the memory modules make for a great presentation. (I'll throw in one more picture of the box, just for good measure!) The only other item packaged with the 2 sticks of ram was a small instruction page to help those that need it.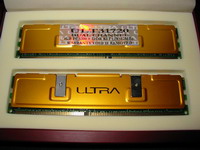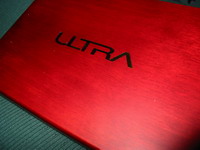 On the backside is a warranty seal that also doubles as a model number/specification sticker. When tipped on edge you can see that these modules are double sided.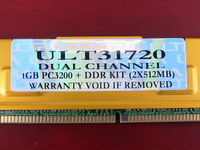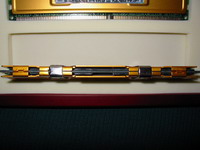 Underneath the tightly clipped heat spreaders lie Samsung TCCD memory chips. Samsung TCCD loaded sticks seem to be the golden memory for overclocking the newer NVIDIA nForce 4 chipset based motherboards. To make a fair comparison in the review of Ultra's ULT31720 we got a hold of a few more sticks of TCCD memory from Corsair and G Skill. The Corsair offering is a pair of CMX512-3200XLPT and the G. Skill dual channel set carries model number F1-3200DSU2-1GBLE. A closer look shows the Corsair and G Skill both with identical chips, K4H560838F TCCD, with a week code of 440. The Ultra has the same model number chips, but has a week code of 504. I could see no difference in any of the three PCBs. Another thing to note is the Corsair and Ultra offerings both use heatspreaders, while the G Skill ram does not. As a final note, the Ultra DDR reported SPD settings of 2,2,2,5.

Please read on to the next page for more... Next

Page 1 | Page 2 | Page 3 | Home | Forum | Review Index | Page Views: