Titan Vanessa CPU Cooler - Page 1 of 3

New designs for processor heat sinks are popping up all over the place. Titan has introduced another new universal CPU heat sink and fan combo that takes advantage of not only a larger than normal fan, but also heat pipe technology. To make the heat sink unique, they have given it a unique design that gives it the shape of a butterfly! To go along with the butterfly look, they have also given it a unique name, Vanessa! Will this new offering from Titan help with the cooling of today's hot processors? Let's find out!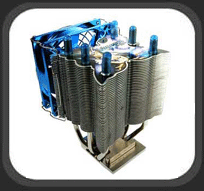 Specifications (taken from the Titan website):

Overview:
• High cooling performance by using heatpipe technology
• Elegant butterfly design
• Copper base with shiny plating
• Minimize the weight with aluminum fins
• Powerful 92x92x25mm fan to enhance heat dissipation
• Bundle with fan speed controller that fits in a 3 1/2" bay
• Adjustable fan speeds to achieve silent cooling or ultimate cooling.
• Including special Nano Blue thermal grease
• Different clip options
• Easy Installation

Vanessa CPU Cooler Information:

Many computer items simply arrive in plastic snap together packs. The Vanessa comes in a high color, beautiful looking box. This has to be some of the nicest packaging I've seen for a heat sink, but as I've said before, packaging doesn't indicate how the unit performs.

The front of the box is designed to sit on a shelf and grab your attention. The front doesn't really provide you with much information, that is reserved for the back of the box. There is plenty of detailed information to be found on the back of the box.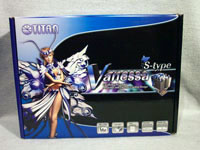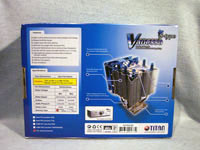 Once you get the box home, you will find all the components are securely placed in a formed plastic case. The heat sink, fan controller, and fan are all separated. Beneath the fan is a box that includes all the accessories you will need to connect this to any modern CPU.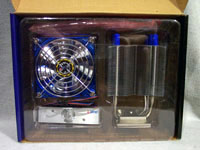 Carefully taking the heat sink out of the box, you get your first really good view of the heat sink. The bottom of the heat sink (the portion that touches the CPU) is perfectly smooth, and is polished to a high shine. The base is copper, but Titan has plated it to keep it from oxidizing.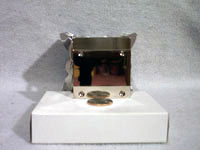 Looking at the side of the Vanessa you can see the many fins used to distribute the heat from the six (6) heat pipes. Be careful when handling the Vanessa, as the fins are easily moved. I had to put several of them back into place before installing it. At the very top of the unit, where the heat pipes extend past the fins, they have put on a blue rubber cap. This was a nice touch as it puts a finishing on the top of the unit, instead of leaving the heat pipes exposed.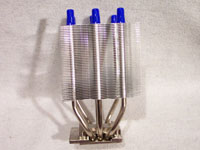 Please read on to the next page for more... Next

Page 1 | Page 2 | Page 3 | Home | Forum | Review Index | Page Views: