Titan Vanessa CPU Cooler - Page 2 of 3

Vanessa CPU Cooler Information (continued):

That brings us to the top of the Vanessa. Since this will be what you are going to be looking at, they have in place a new graphic that looks a bit like the Nvidia butterfly girl. This is much nicer than looking at a plain piece of metal. It would be extremely cool if there was some way to print out a new image to your liking and put it on there! Also, looking at the heat sink from the top, you can see the butterfly design. While this is a unique design, and looks really nice, I'm not sure how many guys will want a butterfly heat sink in their case.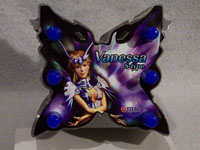 Years ago, there were only one or two different CPU's that manufacturers had to be concerned with. Today, there are at least 4 different CPU types. Titan has made this a universal heat sink. This is accomplished by including accessories to connect it to the AMD K7, AMD K8, Intel P4, and Intel LGA775. In theory, the connectors are set up to where they could add a connector for the future CPU's!

Here you can see all four of the connectors. The two silver ones are for the AMD CPU's, while the black ones are for the Intel CPU's. For the Intel CPU connectors, you will have an exposed screw top. They have included four brass screw caps to keep it connected. Finally, Titan has included a little tube of their Nano Blue thermal paste to apply to your CPU.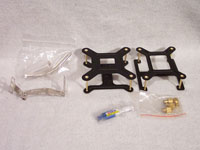 The last required part of the heat sink is the fan. Most CPU heat sinks use an 80mm fan. Titan has gone ahead and included a 92mm fan and fan grill. Since you won't be really looking at that portion of the fan, the fan grill is just a normal grill, however you could use any 92mm fan grill.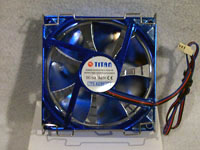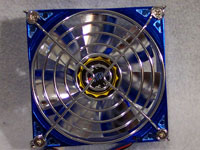 The last thing included is the fan controller. As with the Titan Siberia, a single fan controller is included to fill an open 3.5" drive bay.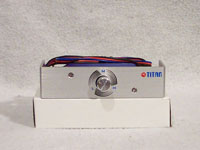 Since not all 3.5" drive bays are exactly the same, and you might not want to put it into your 3.5" bay, Titan has included all the accessories necessary to mount the controller in either the 3.5" bay, or an open expansion slot. I'm very happy to mention that Titan has also included fan controller extensions for those of us that have larger cases (such as my Antec SoHO 1080AMG)! They have also gone ahead and marked each of the three different screw sizes.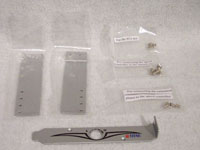 Please read on to the next page for more... Next

Page 1 | Page 2 | Page 3 | Home | Forum | Review Index