Sunbeamtech Lighting Products - Page 1 of 2

Sunbeamtech was kind enough to send over some of their best and brightest... A collection of just a few of their case lighting products. We'll take a quick look at products including their Lazer LEDs, Cold Cathode Fluorescent Lights, and a Blue LED Fan.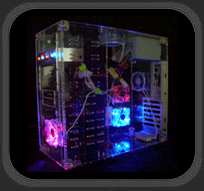 Lazer LEDs:

The Sunbeamtech Lazer LED device is a small, chromed housing containing three ultra bright LEDs. You can get the Lazer LEDs in a huge array of colors including red, green, blue, UV and two new offerings, amber and white. There is also a 3-colored red, green, blue version; this is the variety that Sunbeamtech sent us to take a look at. The Lazer LEDs are packaged with a Velcro pad and two sheet metal screws to use for a more permanent mounting option. The Lazer has only a 1-foot power cord, this could be an issue for some folks with bigger cases or more detailed modding plans. At the end of the power lead is a 4-pin Molex connector.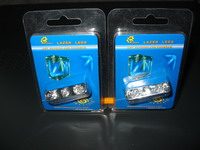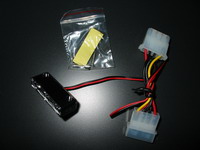 As you can see in the second picture below, the LEDs are not all focused at the same spot; the ones to the outside are aimed outward. This will really help spread out the light, especially with a single color in all three spots.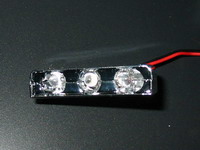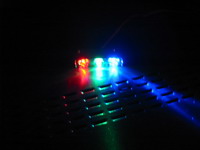 Cold Cathode Fluorescent Lights (CCFLs):

Along with the Lazer LEDs Sunbeamtech also threw in two of their dual tube CCFL lighting kits. These kits include 2 300mm long CCFL tubes, a dual output inverter block, a PCI slot power switch assembly with wiring, and a few Velcro pads for mounting everything up.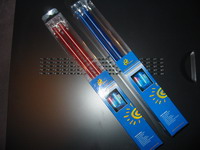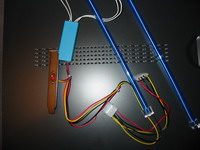 Specifications:

Tube Diameter: 3.0mm
Tube Length: 300mm (100mm also available)
Input voltage (inverter): 12V
Output voltage (inverter): 680V
Current Draw: 5.0 mA
Brightness: 28,000-30,000cd/m2
Lifetime: 30,000 hours

Along with the red and blue kits Sunbeamtech sent over, I purchased a UV kit and a single yellow CCFL for a project coming up. The pictures below show the kits all lit up. First, the blue and red…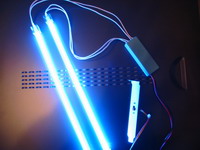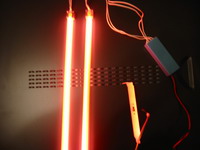 …and then the UV and yellow sticks.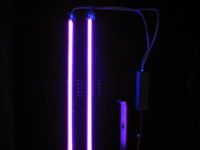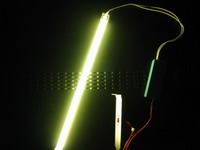 The Sunbeamtech CCFLs are very well made, bright, and not washed out. Some CCFL's I have dealt with tend to look nice until you turn them on and then you get a sort of washed out white light from them. The UV tubes are incredible, very deep and powerful. The red is very red, and brighter than most. The blue at full power tends to get so bright that every other color disappears. The yellow tube also does the same thing. For the best effect, I would recommend using a device to regulate power to these two colors (something like the Sunbeamtech Lightbus).

Please read on to the next page for more... Next

Page 1 | Page 2 | Home | Forum | Review Index | Page Views: