SMC EZ-Stream Media Receiver - Page 1 of 3

Media Receivers or Network Media Players are relatively new devices. They allow you to access multimedia files contained on a networked PC from your TV and/or stereo system. In other words, they act like an interface between your computer and your home theater components. Geeks.com sent over SMC's version of the Media Receiver, the EZ-Stream Media Receiver model number SMCWMR-AG. This is a wired/wireless media player capable of communicating in 802.11b, 802.11g and even 802.11a standards.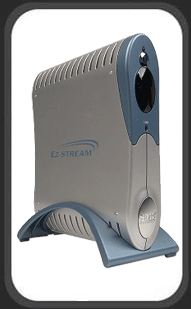 The SMC EZ-Stream came packed in an OEM style brown cardboard box. The only marking on the box was a UPC code with model number.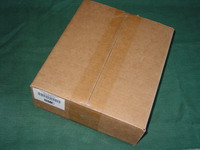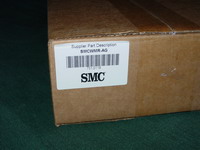 Opening up the box revealed none of the normal packing inserts were included to make me think this device was ever meant to see a retail shelf anywhere. All of the contents were loosely packaged between egg crate foam. Nothing was damaged and all the contents looked new and flawless. Everything was wrapped in individual plastic bags. Included with the SMC EZ-Stream is a stand, an audio and a video RCA cable, a "wall wart" power adapter, Ethernet cable, remote control with 2 AA batteries, quick setup poster and an installation CD.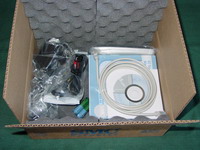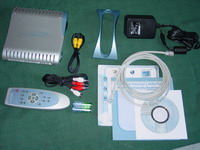 The Basics:

The EZ-Stream is a simple device with little to no functions, buttons or indicators on the device itself. On the front are two very bright blue LEDs. The top one indicates the device is powered up, the lower one indicates wireless connectivity. In between the two LEDs is a power button and a large IR window. Out back things are a little bit busier, but not by much. At the top are two green LEDs indicating either 10 or 100 mbps connectivity followed by a standard 10/100 Ethernet port. Below that is the right, left and video RCA jacks. All the way at the bottom is the power connection. There is no visible antenna of any kind.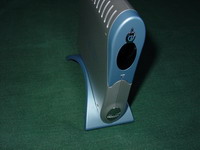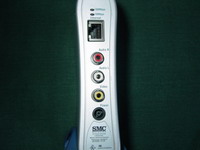 The IR remote control has a total of 18 buttons on it. At the top is a power button, then you have a set of selector buttons that select the type of media. Below that is a menu and info button. In the middle you have a 4 way selector with OK in the center. Going even lower is a back button as well as search. At the bottom is 4 more buttons, play/pause, stop and a forward/reverse set. One of the biggest things missing is a volume control. Having to hold onto a second remote just to control volume is annoying.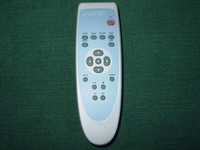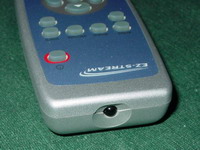 Please read on to the next page for more... Next

Page 1 | Page 2 | Page 3 | Page 4 | Home | Forum | Review Index | Page Views: