HEC Group ACE 580UB ATX Power Supply - Page 1 of 4

If you like black and shiny, then I'd suggest you pay close attention to this review; because today we are looking at the HEC Group ACE 580UB ATX power supply. This is a 580W ATX power supply from the HEC Group that sports a very shiny black finish.


The HEC Group was founded in 1979, Wei Shun was manufacturing rim covers of automobiles. After acquiring know-how for PC Cases in 1991, Wei Shun has been transformed. You might be familiar with the PC cases that they have been producing since then are under the brand name of "COMPUCASE".

Before I show you this shining black power supply unit, we will go over the stats as taken from their web site.

Features:

• Dual +12V rails provide plenty of power sources to support high-end systems
• Compliance with Energy Star and Blue Angel delivery environmentally-friendlier power
• Dual 80mm Blue LED fans deliver extra-quiet cooling
• High Efficiency(> 75%)
• 100% Hi-pot, Chroma & Burn-in function tested
• 6 Pin power connectors for PCI Express Graphic cards and supports Nvidiaฎ SLI technology
• Optimum Cable Management System supports Intel ATX12V and EPS12V

Specifications:

• Temperature Range Operating 0ฐC ~ 50ฐC, non-operating -20ฐC ~ 70ฐC
• Hold-up Time 16.6 ms minimum at full load & normal input voltage
• Humidity 5~95% RH
• Power Good Signal On Delay 100~500 ms, Off Delay 1 ms
• Overload Protection 110~150% Load
• Over Voltage Protection +5V MAX 6.3V,+12V MAX 15.6V,+3.3V MAX 4.5V
• In rush Current 75A (PEAK) for 115 Vac ,150A(PEAK) for 230 VAC
• Remote Sensing +3.3 V
• Cooling Fans Dual 80mm LED DC Fans

Input Characteristics:

• Voltage: 100 ~ 120Vac or 200 ~ 240Vac
• Frequency :47 ~ 63Hz

Output Characteristics:

• +3.3v:- 32A
• +5v: 38A
• +12v1: 18A
• +12v2:17A
• -5v: n/a
• -12v: 1A
• +5vsb: 2.5A
• Combined Power: 240W
• Total Power: 580W

The stats on this power supply unit are very respectable, and should be enough for just about any system you can throw at it. Without further ramblings on my part, let's take a look at the power supply unit and see its nice shiny paint job.

The Basics:

The images below detail the front and back of the packaging...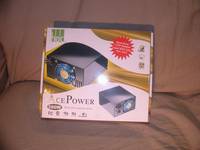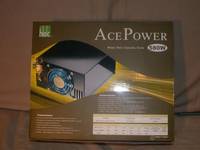 The below left image shows how everything is packed into the box, and in the below right image we see it all removed from the box...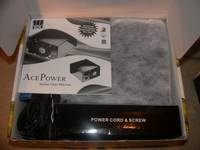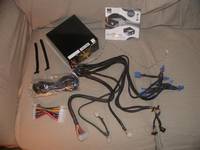 Please read on to the next page for more... Next

Page 1 | Page 2 | Page 3 | Page 4 | Home | Forum | Content Index

Page Views: 26005