HEC Group 6C28 ATX PC Case - Page 1 of 3

The selection of computer cases in today's market is overwhelming. The sizes, styles, and prices range from the conservative to the absurd. Finding a case that balances an appropriate size with decent looks (that won't break the bank) may not be hard due to the lack of choices, but on the contrary, due to too many choices. Compucase may not be the first name you think of when shopping for a case, but as the US source for HEC Group cases, they may be worth consideration the next time you want to find a new home for your system.


Today we are taking a look at the HEC Group 6C28 ATX PC Case. The case is a mid tower model that combines a good mix of looks, features and functionality, even if the name leaves a lot to be desired. Let us first take a look at the cases features and specifications:

Features (as taken from the HEC Group website):

• Full size ATX M/B application to meet Intel P4 AMD K7 design
• Air guide for excellent heat dissipation
• Tool-free kits on add-on card for easy assembling
• Excellent EMI protection design
• Easy-to-open side cover and front panel
• Keylock and latch on the side cover for security
• Tool-free or one-side-screwed design for 5.25" and 3.5" devices
• Dual fans for great heat dissipation
• USB, Audio, 1394 port in front panel
• Chassis intrusion detector switch
• Detachable 5.25" and 3.5" cages for EMI protection

Specifications (as taken from the HEC Group website):

• Model: 6C28
• Housing Material: 0.6mm Thickness
• Housing Type: Tower
• Form Factor: ATX
• Drive Space (Ext/Int):
&nbsp&nbsp&nbsp• 5.25" - 4/0 Drives
&nbsp&nbsp&nbsp• 3.5" - 2/4 Drives
• Expansion Slots: 7 Slots
• Dimensions:
&nbsp&nbsp&nbsp• W: 7.5" / 190mm
&nbsp&nbsp&nbsp• H: 16.1" / 410mm
&nbsp&nbsp&nbsp• D: 17.7" / 450mm

The Basics:

Now that you've seen the published data, how about we look at the case?

In the below left image we get a good overall view of the front of the case. Zooming in a little, we can see the power/reset buttons, front USB jacks, and audio jacks in the below right image.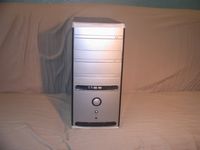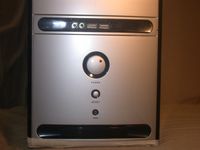 Continuing our look at the front features of the case, the below left image shows a close up of one of the "stealth" drive bays. The below right image shows the drive bay open.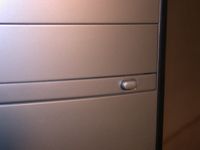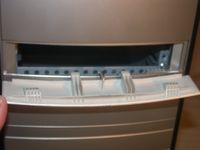 Please read on to the next page for more... Next

Page 1 | Page 2 | Page 3 | Home | Forum | Review Index

Page Views: 13685