Evercool HPC-925 Ice Man CPU Cooler - Page 1 of 3

When some of us hear the name Evercool, we think of a company that utilizes some of the latest technologies and innovations in order to keep systems cool. Evercool has been manufacturing high quality and cost effective cooling products since 1992, using innovations such as heat pipes that funnel the heat away from your cpu and dispense it through fins. Evercool has recently developed a new cpu heat sink, called the HPC-925 Ice Man, that I am going to review. With a name like Ice Man I would expect it would keep the CPU pretty cool! Let's see how it works out!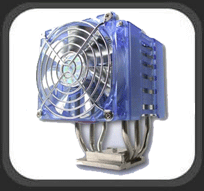 Features and Specifications (taken from the Evercool website):

• Three set of heat pipes provides high thermal conductive efficiency and silent environment
• Heat Pipe with nickel plated and special welding techniques enable seamless connection between fins and pipes
• All in one design. Compatible with intel P4/LGA775 and AMD K7/K8
• Uses 92x92x25cm FAN provides noiseless environment & make highest performance
• The adjustable fan speed controller enables control of noise and fan performance
• Can solve the high heat of 150w effectively

• Heatsink Dimension : 93 x 93 x 98.5 mm
• DC Fan Size : 92 x 92 x 25 mm
• Base Material: Heat Pipe
• Bearing Type : One Ball
• Speed : 1500 ~ 2800 RPM
• Noise Level: 18 ~ 28 dBA
• Max Air flow : 30 ~ 60 CFM
• Rated Voltage : 12 V.DC
• Weight : 950 g

The Basics:

The external package is pretty standard, is more than sufficient for shipping, and will not cause any damage to the unit or other included items. The back of the packaging is a piece of cardboard that is easily removed. Removing the back, you find the HPC-925 resides in another plastic tray, with the accessories packaged separately. The heat sink does require a little bit of assembly to get it ready for installation. Let's look at the individual components of the heat sink.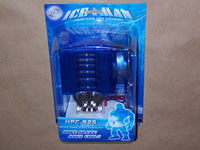 The fan assembly is made out of a translucent blue plastic that slips onto the heat sink and is secured by four screws at the top. This is a convenient way to attach a fan as it allows you to quickly remove the fan to clean the ever-building collection of dust between the fins. The 92mm blue plastic fan has silver chrome colored blades, but no LEDs. A LED fan would make the blue plastic housing glow, which would be a really cool and unique effect. On the side of the fan assembly, there are some vents that allow some of the heat to escape.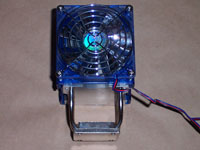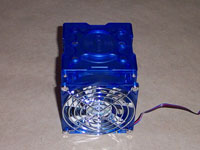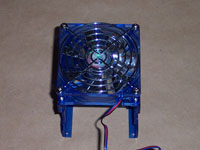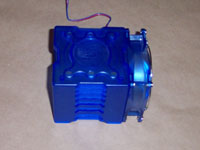 Please read on to the next page for more... Next

Page 1 | Page 2 | Page 3 | Home | Forum | Review Index | Page Views: