Setting Up a Dual Display Desktop - Page 3 of 2

Benefits:

Financially, two smaller monitors should be much easier to justify than one larger monitor. Two 17" LCD monitors, or even two 19" LCD monitors, generally cost much less than just one 20" LCD monitor. Looking at the Geeks.com inventory, it can be seen that two typical 17" models will cost about $400, while one 20" model will cost closer to $800!

The price difference between two new smaller monitors and one new larger monitor is remarkable, but many people might already have something like a decent quality 17" monitor on hand. The value of a dual display desktop gets even better if you only need to buy one of the monitors. Many people retire perfectly good monitors just because they want to upgrade to a larger screen. Simply adding another, similar monitor to the setup can be much more economical and provide even greater desktop real estate.


Desktop real estate is what this effort is all about. People want larger displays for generally three reasons… (1) to make the image larger and easier on their eyes, (2) to be able to fit more content on to the screen, and (3) just for bragging rights as bigger is better! Dual displays may be a good way to take care of numbers one and two, and it will help satisfy number three by scoring significant coolness points worth bragging about.

As a point of reference in the desktop real estate department, let's take a look at the maximum resolution you can run with either a single 20" monitor or two 17" monitors. A 20" Sony LCD monitor supports a maximum resolution of 1600x1200. Any one of the 17" or 19" LCD monitors at the links above will provide a maximum resolution of 1280x1024. Place two of these monitors side-by-side in a dual desktop setup and you have an effective resolution of 2560x1024. If your physical desktop makes it more convenient to configure your Windows desktop so that one monitor is above the other, instead of side-by-side, you could then have an effective resolution of 1280x2048. As you can see, the total area in the dual display configuration is far greater than that found on just one 20" monitor.

From an aesthetic stand point, people may like to have two of the exact same monitors on their desk. It is not necessary that the monitors in a dual display setup match in terms of size, brand, or technology (LCD or CRT). Any two monitors can work in a dual display setup as long as the connections on the monitor and the graphic adaptor match up. That said, there may be other reasons why someone would want to have similar, if not identical, monitors in their array.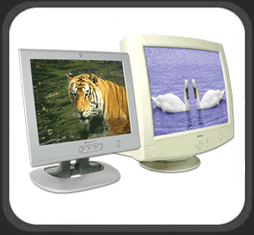 The display specifications are worth considering when adding a different type of monitor in order to create a dual desktop arrangement. Factors such as contrast, brightness, resolution, refresh rate, and dot pitch are just some of the variables that can make one monitor look different than others. In general it is not a big deal for displays to look different when they are in different locations, but when you have them side-by-side on your desk it may be more of an issue. If the image quality isn't similar, shifting your eyes back and forth between the two monitors can become a strain as your eyes try to adjust to each. Many quality LCD displays have specifications that overlap and should be comfortable on the eyes, but a nice crisp LCD next to a slightly worn CRT is a different story.

Final Words:

Dual display configurations are not difficult to setup and offer an economical alternative to upgrading to a larger monitor. The convenience of such a monitor arrangement can be reaped in both business and personal applications, and once you experience working or playing on two displays, you may wonder why you didn't do it sooner.

Please drop by the Bigbruin.com Forum and feel free to discuss this article.

Page 1 | Page 2 | Page 3 | Home | Forum | Content Index

Get Tech Tips and Computer Tips at Geeks.com!