Setting Up a Dual Display Desktop - Page 2 of 2

Hardware:

The software portion of the setup is easily addressed considering that the functionality is built into just about every operating system available. The hardware required for running dual displays requires a bit more consideration, but isn't anything that even a novice computer user can't figure out. One thing you obviously need to have is a pair of monitors. The second thing you need to have is a means for connecting these two monitors to the computer, which can be accomplished in a variety of ways.

For those building a system from scratch, perhaps the easiest way to connect two monitors is via a dual head graphics adaptor, such as this nVidia GeForce 6600 PCIe card. The connectors on this card allow for either one digital and one analog, or for two analog monitors to be connected to the system through the use of just one PCI Express x16 slot. There are dual head cards available for each of the typical expansion card interfaces (PCIe, AGP, PCI), and it is simply a matter of selecting the correct card for the slots available on your motherboard.


In addition to selecting the correct motherboard interface, it is important to select the correct display connections. The card referenced in the previous paragraph provides one DVI connection for a digital display, as well as one 15-pin VGA connection for an analog display. Through the use of an included DVI to VGA adaptor, owners can then run the combinations of monitors mentioned above. Other cards may offer two DVI connections or two VGA connections. A VGA connection can be identified by the typical 15-pin (generally blue in color) plug that has been the staple on computers for years. A DVI connection is generally white in color, and is slightly wider than a VGA connection. Whether selecting a card for use with existing monitors, or buying the card and monitors all at one time, it is obviously critical to select components that will work together.

For those with an existing system that could benefit from dual displays, replacing the existing graphics adaptor with a dual head card is an option, but it is not the only one. Another graphics adaptor can be added to the system, and the existing card can be kept. This is nice for financial reasons, or if the performance of the existing card doesn't warrant replacement.

The key thing to consider with this approach is to select a secondary graphics adaptor that uses a slot available on your motherboard, and that offers a display connection to match your monitor. Newer systems may feature more than one PCIe x16 slots which can make this happen, but you can also add a PCI card to any system currently running PCIe, AGP, or PCI graphics. The cards used in a dual display setup do not need to match, and it is acceptable to run a high end primary card with a bargain basement secondary card, or any combination of cards in between.

Trying to set up dual displays on systems with integrated video can result with mixed results. Expansion slots are generally available for graphics cards on systems with the video adaptor built into the motherboard, but using these slots on many systems like this instantly disables the onboard video. Those desiring dual displays on such systems need to investigate whether onboard graphics adaptor can be part of the setup, or if two new connections need to be installed via either method described previously. But, some integrated video solutions will support dual displays, and may do so without additional hardware. For example, if the manufacturer includes the necessary connections, systems that utilize the Intel Extreme2 integrated graphics processor can run dual displays as is.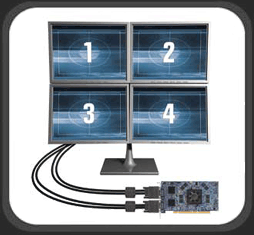 There are also specialty cards, such as the ones made by Matrox that can allow up to four monitors per card, and multiple cards per system! Though not made for the gamer, these cards are great for stock traders, banks and enterprise server situations.

Notebook computer owners aren't left out of the loop on dual displays, either. Most modern notebooks feature a VGA connection that can either be used as the primary display or as part of a dual display arrangement with the notebook's integrated display. Not all notebooks allow for this, as some will only mirror the display onto the attached monitor, so it is best to check the features and specifications before making any purchases.

Please read on to the next page for more... Next

Page 1 | Page 2 | Page 3 | Home | Forum | Content Index

Get Tech Tips and Computer Tips at Geeks.com!