DFI Lanparty UT nF4 Ultra-D Motherboard - Page 1 of 7

Go back a few years, nVidia has just come out with the NForce2 chipset, DFI was there and created arguably the highest overclocking boards ever, the Infinity and the flagship Lanparty B. Come back to the present, DFI is there again to try its hand with the new NForce4 chip. Can they once again create a board that goes above and beyond overclocker's wildest dreams? Time to find out…

From the President of Diamond Flower International, Mr. Y.C. Lu

"In 1981, with a few thousand dollars in hand, I founded DFI. From such a humble beginning, I could not have imagined that DFI would evolve into a full-fledged, international computer corporation as it is today.

Since its inception, DFI has developed expertise and earned a reputation for meeting customer's needs. This foresight was evident in our first product. Anticipating that graphic capabilities would enhance the PC utilities, DFI went into business with an initial sale of 100 graphic display cards in 1981. Since then, our business boomed and DFI continued to develop new products with a focus on technology and customer satisfaction.

I would like to thank our customers, vendors and business associates; they are the people to whom DFI owes its very existence. As we face the future, we continue in our charter to go a step beyond by creating products that exceed our customers' expectations."

DFI has three new offerings based on the nVidia nForce4 chipset family. First off is the Lanparty UT nF4 Ultra-D, next in line is the SLI enabled Lanparty nF4 UT SLI-D, and then the flagship Lanparty nF4 SLI-DR that adds all of the bells and whistles Lanparty board fans have grown accustomed to. I understand there will be some other iterations based on the nF4 chip available soon.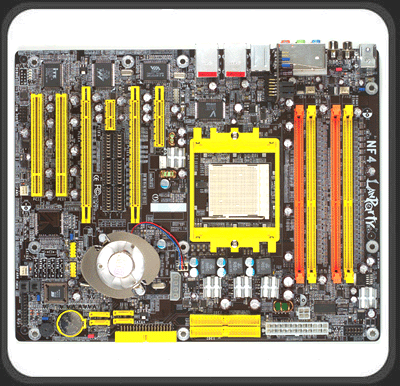 First Look:

DFI was kind enough to send over one of the Lanparty nF4 UT Ultra-D boards for us to review. The Ultra-D shares the same base board with its bigger brothers, but omits the SLI features and the extra SIL 3114 based SATA controller with its additional 4 ports. There are a few other minor items missing from the Ultra-D and we will get into those throughout the review. The Chipset of the Ultra-D is the nF4 Ultra; where as the other two boards both run the nF4-SLI chip.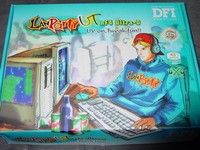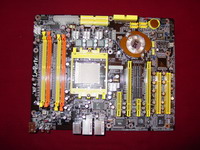 Although the Ultra-D is in the Lanparty family it does not include the familiar Lanparty extras DFI is famous for. You won't get a LanBag, FrontX, the big Lanparty sticker or the larger price attached either. What you will get with the Ultra-D is all the UV reactive connectors and sockets on a black motherboard. Standard items are included like a backplane, quick manual, driver CD, a floppy disk that contains drivers for the SATA controllers; two UV SATA cables and even a 2 drive Molex to SATA power adapter. DFI also tosses in a small bag of quick grab jumpers, a few spare SLI/PCI Express jumpers and a handy tool DFI intended to aid in moving the jumpers; this tool is actually a BIOS chip removal tool that doesn't seem to work quite as well for SLI jumpers.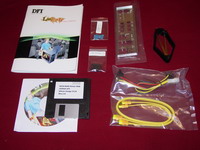 Included in the box is also a sound module DFI calls Karajan. This is for the most part a 7.1 channel sound card packaged a little different and intended to be user mounted in a special spot on the back area of the board. The Karajan module uses the familiar Realtek ALC850 chip for audio processing. Considering the previous NF2 boards had integrated Soundstorm audio, I was a bit disappointed in the choice of onboard audio. Last but not least is a set of UV reactive yellow IDE and floppy cables.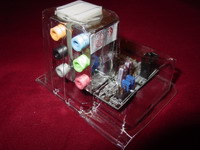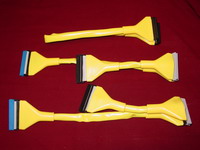 Please read on to the next page for more... Next

Page 1 | Page 2 | Page 3 | Page 4 | Page 5 | Page 6 | Page 7 | Home | Forum | Review Index

Page Views: