Thermaltake Big Typhoon CPU Cooler - Page 1 of 4

In a time of faster and more powerful home computers, one of the greatest challenges is keeping the processor cool. One option would be to have faster fans, which may cool better, but also produce more noise. Another option would be water-cooling, but that has its own limitations and risks. Many new processor coolers are opting for heat-pipe technology, which is designed to move the heat away from the processor through pipes that disperse the heat into other portions of the heat-sink. These operate best with a fan attached to them, however you then will need to concern yourself with the abilities of the fan you are using.

CrazyPC has sent over a sample of a new Thermaltake cooler using heat-pipe technology, the Big Typhoon. Instead of implementing a fast (and noisy) fan, Thermaltake has opted to install a quiet 120mm fan, but the name Big Typhoon implies it still packs some power.



Thermaltake products are quite familiar to us at Bigbruin.com, but this is the first review of an item from CrazyPC. CrazyPC has been catering to the needs of computing enthusiasts since 1999, offering a variety of air cooling, water cooling, computer components, and other high tech goodies from their Michigan location.

Features (taken from the CrazyPC website):

• Application for Intel P4 LGA 775, and AMD K7, K8
• 6 Heatpipes, transfer the heat quickly
• High density aluminum fins provide more surface area for good heat dissipation
• Copper base solder, perfect contact to ensure the best performance
• 12 cm silent fan, perform well at low noise, 16dB only

Specifications (taken from the CrazyPC website):

• P/N: CL-P0114
• Compatibility:
&nbsp&nbsp&nbsp• Intel P4 LGA775
&nbsp&nbsp&nbsp• Intel P4 478 Prescott FMB1.5
&nbsp&nbsp&nbsp• AMD Athlon 64 / Athlon 64 FX
&nbsp&nbsp&nbsp• AMD Athlon XP up to 3400+
&nbsp&nbsp&nbsp• AMD Sempron up to 3400+
• Heatsink Dimension: 122 x 122 x 103 mm
• Heatsink Material: Copper Base & Aluminum Fin (142Fin) Heatpipe Copper Tube ( 6 mm) x 6pcs
• Fan Dimension: 120 x 120 x 25 mm Max. Air Flow 54.4 CFM
• Rated Voltage: 12V Max.
• Air Pressure: 1.87 mm H2O
• Started Voltage: 7V
• Noise: 16dBA
• Power Input: 3.6W
• Connector: 3 Pin
• Fan Speed: 1300 ±10% RPM
• Weight: 813 g (28.70 oz)

Basics:

The Big Typhoon is packaged in a plastic snap together pack, with the accessories packaged separately. The external package is pretty standard and is more than sufficient for shipping, and will not cause any damage to the unit or other included items.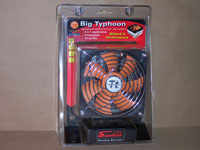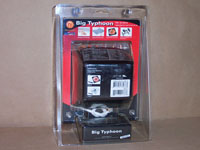 Once you open the package, you will see something that does separate the packaging, which helps to keep it from being damaged. Between the aluminum fins and the copper base, there is a piece of plastic foam. Something I noticed pretty quickly was that the heat-sink base was not straight. I checked to see if there was any damage or movement that occurred during shipping, but it was solid and undamaged. There is a large amount of space between the heat sink base, and the aluminum fins. While this helps to add to the size of the unit, it should help it cool better.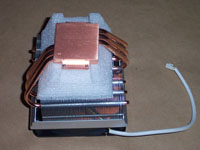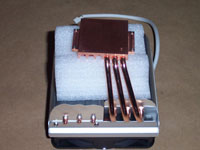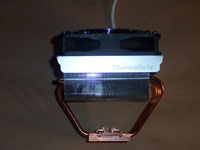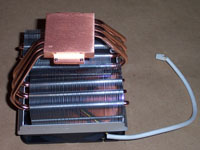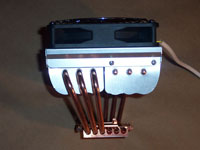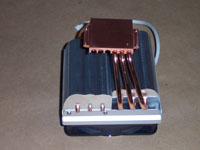 Please read on to the next page for more... Next

Page 1 | Page 2 | Page 3 | Page 4| Home | Forum | Review Index | Page Views: